Mother-Daughter Chinese-Learning Partner: Bits of Confucius Institute at the University of Latvia (Confucius Classroom at Riga Cultures Secondary School)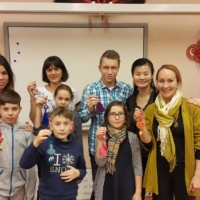 "我叫罗兰,我的妈妈叫罗薇,我和妈妈一起在里加文化中学孔子课堂学习汉语,我和妈妈是同学。"在今年的拉脱维亚赛区汉语桥小学生组的赛场上,一位名叫罗兰的拉国小姑娘在自我介绍中这样说道,坐在台下的妈妈罗薇微笑着为女儿加油。
2013年9月,妈妈罗薇开始在里加文化中学孔子课堂学习汉语,随后的一年因为生宝宝而暂停汉语学习,2015年9月生完宝宝又回孔子课堂继续学习。2016年2月,大女儿罗兰也加入了汉语学习的队伍,跟着妈妈一起到孔子课堂学习汉语。
罗薇是一个对学习很有主见的学生。记得我曾问她为什么学习汉语。她说每天回家都会路过中国大使馆,使馆外有一些中国文字,她看不懂,但也因此引起了她强烈的好奇心,于是她决定学习汉语,希望有一天能看懂中国的文字。此外,她曾在美国留学四年,四年间她的寄宿家庭常常带她去吃中餐,这让她爱上了中国美食,同时也激发了她对中国文化极大的兴趣。
她说每年中秋节,她们全家都会坐在一起喝茶吃月饼赏月,开开心心过中秋,感受中国节日的美妙。
对于以后,罗薇说想跟女儿一起好好学习中国语言与文化,希望自己能学会制作一些地道的中国菜,并期待有一天能带着全家去中国,亲眼看看老师在课上介绍过的中国城市。
"My name is Luo Lan and my mother is Luo Wei. Together with my mother, I am studying Chinese in Confucius Classroom at Riga Cultures Secondary School. My mother and I are classmates." In this year's Chinese Bridge Competition of Children's group in Latvian Division, a Latvian girl named Luo Lan said in her introduction, her mother Luo Wei was sitting in the audience, smiled and cheered for her daughter.
In September 2013, mother Luo Wei began to learn Chinese in Confucius Classroom at Riga Cultures Secondary School. In the second year, she stopped learning Chinese because she had a baby. In September 2015, she returned to Confucius Classroom and continued her Chinese studies. In February 2016, she took her eldest daughter Luo Lan, and they studied Chinese in the same Class.
Luo Wei is a student who always has lots of bright ideas. I remember when I asked her why she started to learn Chinese. She said that she would pass through the Embassy of China in Latvia every day when she returned home. There are some Chinese characters outside of the Embassy. Those characters were fascinating but She couldn't read it, which caused her strong curiosity. So she decided to learn Chinese and hoped that one day she could read Chinese characters. In addition, she had studied in the United States for four years. During those four years, her host family often took her to Chinese restaurants. And this made her fall in love with Chinese food and inspired her great interest in Chinese culture.
She said that each Mid-Autumn Festival, her family will sit together, drinking tea, eating moon cakes, while admiring the full moon, to celebrate the Mid-Autumn Festival, as well as enjoying the beauty of Chinese festival.
About future, Luo Wei said that she would like to study Chinese language and culture together with her daughter. She hopes that she can cook like a Chinese chef one day. And she is also looking forward that she can travel in China with her family in the future and experience the life of China in person.