Congratulations on the new year and the year of the ox!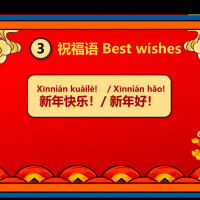 The sound of firecrackers in addition to one-year-old, the spring breeze warm wine into house.In order to celebrate the arrival of the Chinese Lunar New Year, the Spring Festival, Confucius Classroom at Daugavpils University carried out cultural courses with the theme of Spring Festival from February 12 to February 18, local time, relying on the Zoom platform.
In the culture class of sophomore students, Wu Yanli, the volunteer Chinese teacher, gave a detailed introduction to this most traditional and grand festival in China, which was divided into three parts: before, on the day and after the Spring Festival. For example, when introducing the activities before the Spring Festival, teacher Wu Yanli introduced the activities of "Spring Festival travel rush", buying new year's goods, cleaning and pasting Spring Festival couplets; when introducing the activities on New Year's Eve, she introduced the traditions of eating reunion dinner, watching Spring Festival celebration gala and setting off fireworks;when introducing the activities on the first day of the new year, she introduced the customs of paying New Year's calls, receiving red envelopes and visiting relatives. With interesting and real documentary videos, teacher Wu Yanli vividly narrated the colorful activities during the Spring Festival, and the students listened with great interest. In the language class of sophomores, Gao Qing, the volunteer Chinese teacher, combined language with culture, so that students could experience the authentic Chinese style New Year greeting while understanding the Spring Festival customs. She made a variety of "online red envelopes". Each red envelope with a cute calf pattern had a authentic Chinese Spring Festival blessing voice. Students not only received sincere blessings from teachers, but also learned how to express them and passed them on to more people.
In the third year class, the volunteer Chinese teacher Gao Qing, not only introduced the origin and customs of the Spring Festival to the students, but also shared the popular new year song "Congratulations" with the students and appreciated the ancient poem "Yuanri", which expresses hope. Through a variety of audio-visual materials, teachers and students together sensed the importance of the Spring Festival in the long history of the Chinese nation, and deepened the understanding that the Spring Festival not only means reunion, but also represents looking back and departure. The teacher and students also watched the wonderful programs of the online Spring Festival celebration gala of Confucius Institute at University of Latvia and the 2021 CCTV Spring Festival celebration gala.
Students laughed together in the online classroom.Although thousands of miles apart from each other, we feel the unique cultural charm of the Spring Festival. We are looking forward to the reunion in the next spring festival. Here we wish you all the best in the year of the ox!
爆竹声中一岁除,春风送暖入屠苏。为庆祝中国农历新年——春节的到来,当地时间2月12日至2月18日,道加瓦皮尔斯大学孔子课堂依托zoom会议平台开展了以春节为主题的文化课程。
在大二学生的文化课堂上,汉语教师志愿者邬艳丽对中国这一最传统隆重的节日展开了详细的介绍,分为春节前、春节当天和春节后三部分。如在介绍春节前,邬艳丽教师介绍了"春运"、买年货、大扫除、贴春联等活动;在介绍除夕夜时,她介绍了吃团圆饭、看春晚、放烟花等传统;在介绍大年初一时,她介绍了拜年、收红包、拜访亲戚等习俗。时时穿插有趣真实的纪录片视频,邬艳丽教师对春节期间丰富多彩的活动进行了生动形象的讲述,学生们听得津津有味。在大二学生的语言课堂上,汉语教师志愿者高晴则将语言与文化相结合,让学生在了解春节习俗的背后,体验了一把地道的中国式拜年。她制作了精美多样的"线上红包"。每个带着可爱小牛图案的红包里都有一句地道的中国式春节祝福语音。学生不仅收到来自老师对自己的诚挚祝福,还学会了如何将这一句句美好的祝福表达出来,传递给更多的人。
在大三课堂上,汉语教师志愿者高晴不仅向学生介绍了春节的起源、习俗等基本知识,还向学生分享了脍炙人口的新年歌曲《恭喜恭喜》,与学生一同赏析了寄寓希望的古代诗歌《元日》。师生通过多样的视听材料,一齐感知了春节在中华民族历史长河里的分量,加深了对春节意味着团圆外,还代表回首与启程的认识。高晴教师还与学生一同观看了拉脱维亚孔子大学网络春晚和2021年央视春晚里的精彩节目。
课堂里欢笑声不断,相隔千万里的我们共同感受春节独特的文化魅力。虽有不能齐聚一堂的遗憾,但我们期待着下一个春节的圆满。在此祝大家牛年大吉!万事胜意!