Latvia's first "Chinese Dumpling" event in 2022 was grandly held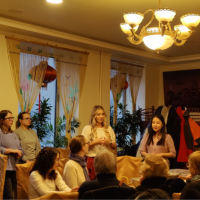 From 18:00 to 21:00 local time on October 14th, the first "Chinese Dumpling" event in 2022 (a Chinese corner event with the theme of making dumplings) will be jointly organized by the Confucius Institute at the University of Latvia, the Faculty of Humanities at the University of Latvia, and the Latvian Students Association in China.  Completed.  The event was held at the "Jiajiajia Restaurant" in Riga. It was hosted by Karina, President of the Latvian Students Association in China, and Bai Bingyu, a teacher from the Confucius Institute.  More than 40 people including Professor Changshang Quanyu, Madam Zhang Guiying, the dean's wife, Gao Anna, secretary of the Confucius Institute, volunteer Chinese teachers, and teachers and students from China and Latvia attended the event.
At the beginning of the event, teacher Bai Bingyu explained a lot of knowledge about dumplings, such as "dumplings that go out, noodles that come in", and the atmosphere quickly became active.  After that, the host invited "Dumpling Masters" Yang Baoru and Zhang Hanxu to show everyone how to wrap dumplings.  Everyone was instantly attracted and stood up one after another to learn how to make dumplings.  It can be seen that as a traditional Chinese pasta, dumplings are deeply loved by Chinese and foreign friends.
The "Chinese Dumplings" activity was in full swing. Everyone worked in groups in twos and threes, kneading dough, rolling skins, and making dumplings. They were full of energy and very busy.  After more than half an hour, the first pot of hot dumplings came out.  When the dumplings made by themselves came out of the pot, everyone happily tasted them. The fragrant and warm dumplings warmed everyone's heart.  At this moment, the activity site is full of a strong friendly atmosphere.
At the end of the event, Professor Bao Gewei organized everyone to talk about their feelings about the event in Chinese. Everyone spoke in succession. Latvian Chinese learners raised questions about their curiosity about Chinese dumplings, which were answered enthusiastically by the volunteer Chinese teachers.  Dean Shang proposed to continue this "Chinese Dumpling" activity, because it is not only a food tasting activity, but also an activity to enhance the friendly cultural exchanges between China and Latvia .  It not only brings the Latvian people and the Chinese people closer, but also strengthens the collision between different cultures.
Through this "Chinese Dumpling" activity, friends from all over the world gathered together, not only let the Latvian people understand the culture of Chinese dumplings, but also let the Chinese compatriots in Latvia feel the warmth of winter.  Chinese culture has entered the hearts of Latvians in a more friendly way, and the seeds of cultural heritage have taken root in everyone's hearts in a subtle way.
当地时间10月14日18点至21点,由拉脱维亚大学孔子学院、拉脱维亚大学人文学院、拉脱维亚留华同学会联合举办的2022年首届"汉语饺"活动(以包饺子为主题的汉语角活动)圆满完成。本次活动在里加"加佳家酒楼"举办,由拉脱维亚留华同学会会长卡琳娜和孔子学院教师白冰玉主持,拉脱维亚大学人文学院汉学专业负责人鲍葛薇教授、拉脱维亚大学孔子学院中方院长尚劝余教授、院长夫人张桂英女士、孔院秘书高安娜、汉语志愿者教师以及中拉师生40余人出席此次活动。
活动伊始,白冰玉老师给大家讲解了许多关于饺子的知识,如"出门的饺子,进门的面",现场气氛迅速活跃了起来。之后,主持人邀请"饺子大师"杨宝茹和张涵絮给大家展示饺子的包法。大家瞬间被吸引了,纷纷站起来学习饺子的包法。可见作为中华传统的面食,饺子饱受中外朋友的喜爱。
"汉语饺"活动如火如荼地展开,大家三三两两各自成组,揉面、擀皮、包饺子,干劲十足,忙得不亦乐乎。半个多小时后,第一锅热腾腾的饺子就出炉了。当亲手包的饺子出锅后,大家开心地品尝着,香喷喷、热乎乎的饺子温暖了每个人的心,活动现场充满了浓厚的友好气氛。
活动最后,鲍葛薇教授组织大家用汉语谈谈自己自己对活动的感受,大家纷纷发言,拉脱维亚汉语学习者就自己对中国饺子的好奇提出了疑问,由汉语志愿者教师热情回答。尚院长提议要将此次"汉语饺"活动延续下去,因为这不仅是一次美食品鉴活动,更是一次增强中拉民族文化友好交流的活动。不仅拉近了拉脱维亚人民和中国人民的心,也增强了不同文化之间的碰撞。
通过本次"汉语饺"活动,五湖四海的朋友齐聚一堂,不仅让拉脱维亚人民了解了中国饺子的文化,也让在拉国的中国同胞们感受到了冬日的温情。中华文化以更亲民的方式走入拉脱维亚人的心中,文化传承的种子以潜移默化的方式在大家心间生根发芽。