A Thousand Miles Together — Teachers and Students of Riga 34 Secondary School Celebrate the Mid Autumn Festival Online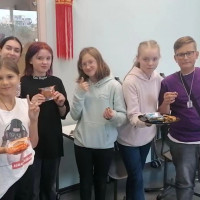 From September 12 to 14, 2022 in the second week of the new semester of Riga 34 Seondary School in Latvia, though Chinese volunteer teacher could not arrive in Latvia as scheduled, yet the online Chinese course in Riga 34 Seondary School was carried out as scheduled with the students' expectation. When the students entered the classroom, they were surprised to find that there were many Mid Autumn Festival mooncakes on one side of the classroom. Then they were very happy to find that their Chinese volunteer teacher Wang Beiya and local Chinese teacher Evita Kalme had prepared a colorful Mid Autumn Festival cultural class for them.
In the new semester, Riga 34 Seondary School sets up five Chinese classes at different levels: Grade 5, Grade 6, Grade 7, Grade 8 and interest class. In the cultural class of the Mid Autumn Festival, volunteer teacher and local teacher made vivid and interesting introductions, including the story of Chang'e flying to the moon, the custom of watching the moon and eating moon cakes, and the introduction of various moon cakes. The teachers and students shared the moon cakes sent by the Confucius Institute. The students were very happy to talk about the taste of the moon cakes. They all loved the Chinese food, moon cakes.
Although the volunteer teacher has not yet arrived in Latvia, the Mid Autumn Festival, a festival of reunion, has linked teachers and students of Riga 34 Seondary School, which is the "thousands of miles of love" between the Chinese and Latvian people.
当地时间2022年9月12日至14日,拉脱维亚里加34中学开学第二周,虽然汉语教师志愿者未能如期抵达拉脱维亚,但里加34中学的线上汉语课程在学生们的期待下如期开展。当学生们走进教室,他们惊奇的发现在教室的一边,摆放了许多中秋节月饼,接着他们非常开心的发现他们的汉语志愿者教师汪贝娅和本土中文教师艾维塔给他们准备了一节丰富多彩的中秋节文化课。
新学期里加34中学共设置五年级、六年级、七年级、八年级和兴趣班五个不同水平的汉语班级。在中秋节文化课上,志愿者教师和本土教师做了生动有趣的介绍,包括讲述中秋节嫦娥奔月的故事、赏月和吃月饼的习俗和介绍多种多样的月饼。师生共同品尝了孔子学院为大家送来的月饼,畅聊月饼的味道,学生们都很开心,他们都非常喜欢月饼这种中国美食。
虽然志愿者教师因为疫情尚未抵达拉脱维亚,但是中秋节这个团圆的节日已经将里加34中学的师生联系在一起,这就是中拉人民"千里共婵娟"。