Confucius Institute at the University of Latvia successfully held the first online HSK examination in 2022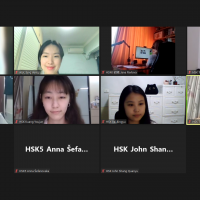 On Saturday, March 12, 2022, Beijing time, the first annual Chinese Proficiency Test (HSK) in Latvia officially started. Due to the COVID-19 pandemic, this is still an online test. From February 9th to February 26th, 2022 is the registration time for the HSK exam. The Confucius Institute's exam this time covers HSK Level 2 to Level 5, and HSKK Elementary to Advanced. A total of five sessions have been arranged. The HSK test is always done by adhering to the principle of fairness and openness. Candidates use the test client dedicated to Chinese Testing International to answer the questions and use the camera to take a snapshot in real time; the examiners use the Zoom conference software to record the whole process as the second camera for invigilating.
In order to ensure the smooth development of the home-based online test, Shang Quanyu, Chinese director of Confucius Institute at University of Latvia, has been actively organizing online test training for all invigilators and arranged for the chief examiner, Bai Bingyu, to coordinate the invigilation of the examination, and Anastasija Galkina, secretary of the Confucius Institute and the translator during the test, in a timely manner, to implement the test notice and help candidates solve problems when applying for the test, etc.
At 14:00 on March 5, 2022, Beijing time, all invigilators used the Zoom conference software and the HSK test client to conduct a mock test, which not only helped students familiarize themselves with the process, but also helped examiners reflect and improve their invigilation work. Starting at 14:00 on Saturday, March 12th, the first exam (HSK2 & HSK4) was prepared. Chinese Director of the Confucius Institute, Shang Quanyu, Li Min, all invigilators and candidates entered the meeting room on time. The invigilators assisted all candidates in the verification of equipment and environment in an orderly manner, and clarify the examination instructions. The examination officially started at 15:00 in the afternoon. Then, the second (HSKK intermediate), the third (HSK2&HSK4), the fourth(HSKK elementary)and the fifth(HSKK advanced)tests were also carried out in sequence. During this period, the invigilation work has ensured all-weather standby to facilitate the normal conduct of the HSK test.
The last HSK home-based online test ended successfully at 23:00 Beijing time. With the escort of the teachers of the Confucius Institute and the technical support of Chinese Test International, the HSK test of the Confucius Institute at the University of Latvia has become better and better. Students' love for Chinese is the driving force for international Chinese teachers to move forward. May the flowers of Chinese in the Baltic Sea always bloom, and Chinese learners will continue to achieve great results!
拉脱维亚大学孔子学院2022年3月HSK居家网考顺利开展
北京时间2022年3月12日星期六,拉脱维亚2022年度第一次汉语水平考试(简称HSK)拉开了帷幕。由于疫情原因,本次依旧采用居家网考的形式。从2022年2月9日至2月26日为HSK考试报名时间,孔院此次的考试涵盖了HSK二级到五级,HSKK初级到高级,共安排了五个场次进行。汉语水平考试秉持公平公正公开的原则,考生使用汉考国际专用的考试客户端进行答题,并实时通过第一机位抓拍;考官采用ZOOM会议软件全程录像,作为第二机位进行监考。
为保证此次居家网考的顺利开展,拉脱维亚大学孔子学院中方院长尚劝余积极组织报名与考官培训,安排了总监考官白冰玉老师统筹监考的各项工作、孔院秘书兼考试翻译高安娜及时落实考试通知并帮助考生解决报考时的问题等。
于北京时间2022年3月5日下午14:00,各位监考人员使用ZOOM会议软件与HSK考试客户端开展了模拟考试,利于学生熟悉流程的同时也帮助考官反思及改进了监考工作。3月12日星期六下午14:00开始,第一场(HSK2&HSK4)考试作考前准备,孔院中方院长尚劝余和李民、所有监考人员、考生们准时进入了会议间,监考官们有序协助各位考生进行设备、环境的核验,明确考试须知,考试于下午15:00正式开始。接着,第二场HSKK中级、第三场(HSK2&HSK4)、第四场HSKK初级和第五HSKK高级也依次开展考前准备及考试。期间,监考工作确保了全天候待命,助力HSK考试的正常进行。
最后一场HSK居家网考于北京时间晚上23:00圆满结束。在孔院各位教师的保驾护航与汉考国际的技术支持下,拉脱维亚大学孔子学院的HSK考试得以越办越好。学生们对中文的热爱是广大国际中文教师前进的动力,愿波罗的海的瀚宇之花始盛开,中文学习者步履不停夺佳绩!