The Lantern Festival Culture Lesson of the Confucius Classroom at Riga Cultures Secondary School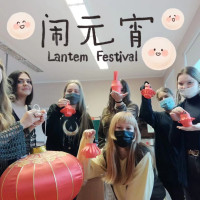 On the evening of February 15, local time, the students in Confucius Classroom at Riga Cultures Secondary School in Latvia shared joy with Chinese teacher Li Xin by celebrating the Lantern Festival – welcoming the new year, and thereby opened a week-long Chinese traditional culture experience lesson.
This cultural experience lesson focuses on the Spring Festival and the Lantern Festival. In order to let students fully understand Chinese New Year culture, the Chinese teacher organized three activities: "Understanding the new year – Exploring the new year – Experiencing the new year". In the first class, the teacher showed the students videos related to the Chinese festival culture to deepen the students' understanding of the cultural source of the Chinese New Year. Supported by a certain cultural background, the teacher explained the relevant new words and let the students think about the meaning of the Chinese characters "Chun", "Nian", "Yuan" and "Xiao" in the process of memorization. In the second class, the teacher used new words to guide the students to play lantern riddles. This way of combining teaching with fun made the students very active in the group discussion activities. Everyone actively discussed the similarities and differences between the Spring Festival and the Lantern Festival and praised China's extensive and profound traditional culture. In the last class, the teacher summarized this week's cultural experience lesson, and the students also shared their knowledge learned in this week, and proposed to learn more about Chinese traditional culture. In the relaxed and cheerful classroom teaching atmosphere, the teacher took the students to experience the paper-cutting activities. After class, the students looked at their learning works and showed a satisfied smile.
During the weekend when students handed in their learning works one after another, this cultural experience lesson ended smoothly. This curriculum design inspired the Chinese teacher a lot, that is, the way of teaching in fun can make students slowly fall in love with Chinese learning, and they can carry out more relevant cultural activities in the future. Culture is closely related to teaching.
里加文化中学孔子课堂元宵节文化体验课
当地时间2月15日晚,拉脱维亚里加文化中学孔子课堂的学生们与汉语教师李欣一起云共享欢乐:闹元宵-迎大年,开启了为期一周的中国传统文化体验课。
本次文化体验课以春节和元宵节为主,为了让学生充分了解中国的新年文化,汉语教师组织了"初识新年-讨论新年-体验新年"三个活动。在第一堂课上,教师给学生们播放了中国节文化的相关视频,加深学生对中国新年文化来源的了解,在一定的文化背景支撑下,教师讲解了相关生字词,让学生在识记的过程中思考汉字"春"、"年"、"元"、"宵"等含义。在第二堂课上,教师借用生字词引导学生玩猜灯谜游戏,这种寓教于乐的方式让学生们在小组讨论活动中表现得非常积极,大家争先恐后地讨论着春节和元宵节的异同点,纷纷感叹中国传统文化的博大精深。最后一节课上,教师总结了本周文化体验课的点点滴滴,学生也各自分享了自己在这一周学到的知识,并提出想学习了解更多的中国传统文化,在轻松欢快的课堂教学氛围下,教师带着学生体验了剪纸活动,课后学生看着自己的学习成果,都露出了满意的笑脸。
在学生陆续上交学习作品的周末时光中,本次文化体验课顺利结束,这次课程设计给汉语教师很大的启发,即:寓教于乐的方式能让学生慢慢地爱上中文学习,以后可以多开展相关文化活动,文化和教学息息相关。