"Charming Bay area, dynamic Lingnan"——The online winter camp of South China Normal University officially opened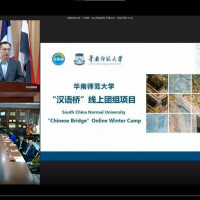 On January 7, 2022, Beijing time, the "Chinese Bridge" Winter Camp with the theme of "Charming Bay Area, Dynamic Lingnan" which is held by South China Normal University officially opened. The project is specifically undertaken by the School of International Culture(SIC), South China Normal University(SCNU), and the teaching methods are live broadcast and recorded broadcast. When the project was announced, it attracted many Chinese learners from Vietnam, France, Japan, Latvia, etc., to sign up, including 44 students from the Confucius Institute at the University of Latvia. At four o'clock in the afternoon, the organizers and leaders of South China Normal University, the teachers and campers from the Confucius Institutes gathered on the ChinesePlus platform on time to witness this exciting moment.
The opening ceremony was presided over by teacher Dai Xiangbin of SIC. Mr. Liang Tiexiang, Chief of the Office of International Exchange and Cooperation, delivered an opening speech and introduced the achievements of South China Normal University in its active international exchanges and cooperation in recent years. He said that this is the second online winter camp held by them in 2021. Building a broader platform for students to experience Lingnan culture in depth is their sincere hope. Mr. Zuo Pengjun, Dean of the School of International Culture, introduced the unique climate, natural landscape, and rich cultural heritage of the Lingnan region, and pointed out that it has been the center of foreign exchanges since ancient times. In recent years, there has been a burst of tremendous energy in foreign trade, foreign exchanges, and foreign education cooperation. Afterwards, three overseas teachers, Yao Yingjuan, Pan Shi Lan Fang, and Bai Bingyu, delivered speeches on behalf of the Confucius Institute at the University of Reunion in France, Fuchun University in Vietnam, and University of Latvia, expressing the enthusiasm of overseas teachers and students for the winter camp project. They thanked all the staff of the organizers of South China Normal University for their hard work. Simona Liepa, a first-year student of the University of Latvia, also gave a wonderful Chinese speech as a representative of the students, hoping to "make good friends, learn new knowledge and gain new experiences" in the winter camp.
The epidemic is still going on, just as the long winter night has not passed yet. However, The enthusiasm of international Chinese learners and educators has lit up the sky. May the cause of international Chinese education be rewarded. Wish all the campers a happy new year and a happy camp.
冬日漫漫,云游岭南  ——  华南师范大学线上冬令营正式开营
北京时间2022年1月7日,以"魅力湾区,动感岭南"为主题的华南师范大学"汉语桥"冬令营正式开幕。该项目由华南师范大学国际文化学院具体承办,授课形式为直播及录播。项目公布之初,就吸引了来自越南、法国、日本、拉脱维亚等众多汉语学习者前来报名,其中包括来自拉脱维亚大学孔子学院的44名学员。下午四点,华南师范大学校领导、主办方人员、各孔子学院带队老师及营员们准时相聚在中文联盟平台,共同见证这个令人雀跃的时刻。
开幕式由国际文化学院戴相斌老师主持。国际交流合作处领导梁铁祥先生致开幕辞,介绍了华南师范大学近年来积极开展国际交流合作的成果,表示这是该校在2021年举办的第二次线上冬令营,旨在为汉语国际教育搭建一个更广阔的平台,让学生们深度体验岭南文化。国际文化学院院长左鹏军先生介绍了岭南地区独特的气候、自然景观、土地上遍布的丰富文化遗产,指出这里自古以来就是对外交流的中心地。近年来更是迸发出在对外贸易、对外交流、对外教育合作方面的巨大能量。之后,要颖娟、潘氏兰芳、白冰玉三位海外教师分别代表法国留尼旺大学孔子学院、越南富春大学孔子学院及拉脱维亚大学孔子学院致辞,表达了海外师生对冬令营项目的热切期待并感谢华南师范大学主办方全体人员付出的心血。拉脱维亚大学一年级学生早星(Simona Liepa)也作为营员代表做了精彩的发言,希望在冬令营中"交到好朋友,学到新知识,获得新体验"。
疫情仍在继续,正如凛冬暂未过去,来自各国孔院的汉语爱好者和国内的汉语国际教育工作者却用他们的热情在凛冬中点燃了一束人文的火把,愿汉教事业薪火相传,汉语学习者热爱不灭。