End of the First Semester Chinese Class of the second grade class at Riga No.64 Secondary School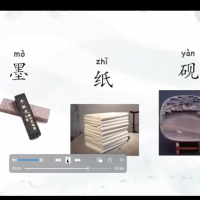 As of December 20, 2021 (Beijing time), Classes 1 and 2 of the second grade class at Riga No.64 Secondary School have been completed. Different from the previous relaxed and happy classes, the last Chinese class ended with a "tense" quiz.
Before the quiz started, Tang Jing, the Chinese teacher, expressed her sadness about the end of the class. They wished each other "Merry Christmas". After a brief introduction of the purpose and requirements of the test, the students felt challenged but also eager to try. Some students chose to open the camera so as to do it carefully. Five seconds after the countdown, the test starts.
The test consists of three parts: radical classification of Chinese characters, listening comprehension and sentence comprehension, which are all knowledge points that have been repeatedly practiced before. After the test, some students did not want to send photos because they were worried about their performance, under the constant encouragement of teacher, they finally submitted. Some students took the initiative to ask about the test results after the end, although the final score is high and low, the teacher Tang Jing found out the advantages of each student. The students were excited and expressed their gratitude and hoped to continue learning Chinese.
Towards the end, the Chinese teacher took the paper and pen that the students used as the introduction and showed the initial production process of China's "four treasures of study – pen, ink, paper and inkstone" by video. The students were surprised and curious about them. Finally, the teacher and students bid farewell warmly. "Zài Jiàn " is a temporary farewell to Chinese class and a good expectation for the new semester. See you next semester!
里加64中学二年级第一学期汉语课结课
截至北京时间2021年12月20日,里加64中学汉语二年级1、2班均顺利结课,与以往轻松愉快的课堂不同,第一学期的汉语课以一场"紧张"的小测验作为结束。
小测验开始前,汉语教师唐静表达了即将结课的不舍,师生互相祝愿"圣诞节快乐"。简单地介绍测验目的和要求后,学生们虽觉得有挑战,但也跃跃欲试,有学生选择打开摄像头认真作答,5秒倒数后,测试正式开始。
该测试共有汉字偏旁分类、听力、句子理解三部分,均是此前反复练习的知识点。测验结束后,有学生因担心自己做得不好而不愿发送照片,在教师的不断鼓励下,最终提交了他们不错的答卷;也有学生在结束后主动地询问测试结果,虽然最终分数有高低,但教师唐静找出了每位学生的优点,学生们也在得知后激动不已,对教师表示了感谢,并希望继续学习汉语。
接近尾声时,汉语教师以学生作答的纸和笔作为导入,用视频展示中国"文房四宝-笔、墨、纸、砚"的最初制作过程,学生对其表示惊讶和好奇。最后,师生热情告别,一声声"再见"是对汉语课的暂时告别,也是对新学期新开始的美好期待,下学期见!