The Winter Solstice cultural class launched at Transport and Telecommunication Institute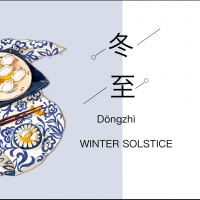 On December 22, 2021 (Beijing time), the winter Solstice cultural experience class was launched for the basic Chinese language class at Transport and Telecommunication Institute, which is the seventh cultural experience class held by Chinese teacher Tang Jing.
"I know the winter Solstice," Li Na, a student at the Transport and Telecommunication Institute, said before introducing it. "There are the shortest day and the longest night."
Then teacher Tang said, "It is true that there is the longest night on this day, but you might not know the special meaning of it in China." "The winter Solstice is as big as the year". It was once one of the most solemn festivals in ancient China. For ordinary people, it was an auspicious day, representing the old has passed and the new is coming.
Therefore, teacher Tang showed two videos about the winter solstice in China. From the videos, Li Na learned that the winter solstice was also related to Chinese agricultural production. In ancient China, the emperor would hold a ceremony to worship heaven on this day and students would worship Confucius. On the winter Solstice, Chinese people eat dumplings and prepare hearty food, symbolizing the blessing of the New Year. With so many Chinese characteristics, Li Na has a new understanding of the winter solstice.
Then, the teacher showed a variety of dumplings, and a video of making dumplings, even across the screen we can feel the smell of the delicious dumplings. Teacher Tang and Li Na can not help but say together, "I am hungry." After a burst of laughter, teacher Tang and Li Na bid farewell to each other happily, and they are looking forward to the next wonderful class together.
交通与电信大学开展冬至日文化体验课
北京时间2021年12月22日,交通与电信大学初级汉语班开展冬至日文化体验课,这是汉语教师唐静开展的第七次文化体验课。
交通与电信大学的学生李娜是汉语课的"常客",还没等介绍"冬至日",她便说:"我知道它,这一天白昼时间最短、黑夜最长。"唐老师笑道,"这一天确实黑夜最长,但你肯定不知道这一天在中国的特殊意义。" "冬至大如年",冬至曾是中国古人最隆重的节日之一,对老百姓而言,这一天是个吉祥的日子,代表着旧去新来。
于是,教师展示了两段中国冬至日的介绍视频,通过视频李娜了解到,冬至日也和农业生产有关,中国古代时皇帝会在这一天举行祭天仪式,学生会祭拜孔夫子。在冬至日中国人要吃饺子,也会准备丰盛的美食,寓意为新的一年福气满满。如此多的中国特色,让李娜对冬至日有了新的认识。
随后,教师展示了各式各样的饺子,以及制作饺子的视频,就算隔着屏幕也能感受到饺子的美味和热气腾腾,师生不禁一同说道,"我饿了。"一阵欢声笑语后,师生互相愉快告别,共同期待下一次精彩的课堂。