End of the First Semester Chinese Class of Confucius Classroom at Riga Cultures Secondary School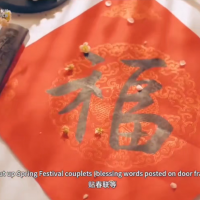 On the evening of December 16, local time, the students in Confucius Classroom at Riga Cultures Secondary School and Chinese teacher Li Xin summarized the Chinese learning life of this semester, and drew an end to the Chinese class of the first semester on the eve of the examination week.
At the beginning of the class, the Chinese teacher delivered a small speech, summarized the teaching results of this semester, praised the students for their serious study, and thanked the students for bringing her many surprises and moves. Just after the words of thanks, the students praised and expressed their love. Then the students spoke one by one, summarizing their learning and thanking the teacher. Teacher and students look forward to their Chinese learning life next semester.
Finally, the Chinese teacher played a short video comparing the Chinese Spring Festival and Christmas to let the students discuss the cultural similarities and differences between Christmas and the Spring Festival in a cheerful atmosphere. Everyone actively shared the customs of Christmas. Under the guidance of the teacher, the students had a general understanding of the Chinese Spring Festival Culture. The students began to look forward to the next class and hoped that the teacher could explain the Chinese Spring Festival Culture Course in detail.
The Chinese class in the first semester has ended temporarily. We are all looking forward to meeting each other online next semester and praying for the early end of the epidemic so that the teacher and students can get together to learn Chinese on-site in the beautiful Latvia !
里加文化中学孔子课堂第一学期中文课结课
当地时间12月16日晚,拉脱维亚里加文化中学孔子课堂的学生们与汉语教师李欣一起畅谈总结了这学期的汉语学习生活,在考试周前夕,给第一学期的中文课画上了一个依依不舍的句号。
上课之初,汉语教师发表了一篇小演讲,总结了本学期的教学成果,表扬了各位学生认真的学习,也感谢了大家带给我的很多惊喜和感动。感谢话音刚落,学生们纷纷点赞和比心。然后学生们也都一个接一个地发言,总结了自己的学习情况和感谢老师,我们一起欢快地展望下学期的中文学习生活。
最后,汉语教师给大家播放了一个中国春节和圣诞节相比较的小视频,让学生在欢快地氛围下讨论圣诞节和春节的文化异同,大家都很积极地分享了圣诞节的习俗,在教师地引导下,学生们对中国春节文化有一个大概的了解,开始期待着下一次上课教师详细讲解中国春节文化课了。
第一学期的中文课暂告结束,老师和同学们都期待着下学期的相遇,也都祈祷着疫情早日结束,师生能相聚一堂学习中文。