2021 Year Chinese Teaching Communication Meeting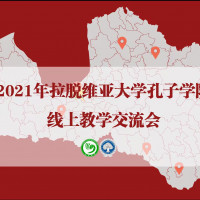 On November 20, 2021, all members of The Confucius Institute at University of Latvia held a special Chinese teaching sharing meeting through ZOOM platform. Latvian director  Pildegovics, Chinese director Professor Shang Quanyu, secretary Ms. Maria Jurso and all Chinese teachers of Confucius Institute at University of Latvia attended the meeting.
The meeting was hosted by Bai Bingyu, a government-appointed teacher. After the opening ceremony, all Chinese teachers summarized the teaching work of their own schools/universities for the past half a semester and shared many teaching experiences of online teaching. Half a semester of Chinese is short, but they all gain a lot. They also actively interacted and exchanged the ideas of improving teaching methods and classroom management etc so as to make network teaching more efficient and effective.
In the end, directors Mr. Pildegovics and Mr. Shang Quanyu summed up the Chinese teaching sharing meeting and spoke highly of what  all Chinese teachers had done for sharing their teaching experiences , teaching materials and teaching resources,etc. They congratulated to all Chinese teachers for holding this fruitful  Chinese teaching sharing meeting and thanked everyone for sticking to the front-line position of online teaching during the epidemic time.
共聚云端话汉语
2021年11月20日,拉脱维亚大学孔子学院全体成员通过zoom平台进行了一场特别的汉语教学分享会。拉脱维亚大学孔子学院外方院长贝德高教授、中方院长尚劝余教授、秘书玛丽娅以及孔子学院全体汉语教师志愿者参加了会议。
会议由公派教师白冰玉主持,孔子学院两位院长贝德高、尚劝余进行了简单的开幕式后,接下来各教学点的汉语教师分别总结了半个学期的教学体会,分享了许多网络教学的教学经验。半个学期的汉语虽然简短,但大家都收获颇丰。大家也积极提出关于教学及课堂管理的想法和不足,为网络教学献出自己的一臂之力。
最后,两位院长对本次汉语教学分享会进行总结,肯定了各位汉语教师志愿者的工作,包括教学方面、教材和教学资源的分享,认为这是一场非常完满的汉语教学分享会,并感谢大家依然坚守在网络教学的一线岗位上。