Enjoying Chinese Cuisine Culture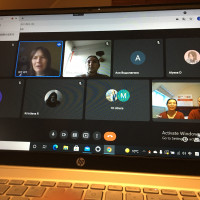 At the invitation of Associate Professor Agita Baltgalve, the head of the Chinese Program of Faculty of Humanities at University of Latvia, Shang Quanyu, the Chinese Director of Confucius Institute at University of Latvia, and his wife Zhang Guiying gave a lecture on Chinese cuisine culture to the third-year Chinese majors of University of Latvia.
Shang Quanyu started with the ancient Chinese saying "food is the first necessity of the people", and proceeded to talk about the characteristics and representative dishes of the eight major cuisines of Sichuan, Guangdong, Hunan, Shandong, Zhejiang, Jiangsu, Fujian and Anhui cuisines, revealing the richness and broadness and profoundness of Chinese food culture.
Zhang Guiying started with Shaanxi cooked wheaten food and proceeded to talk about the making of dumplings, noodles, steamed stuffed buns, plane pancakes, rolls, pastry, meat-stuffed pancakes, cucumber salads, and vinegar potato shreds, revealing the difference between the staple foods of Northern and Southern China and the respective characteristics of Chinese and Latvian cuisines.
In the ensuing question and answer session, the students interacted with the two guests and gained a more vivid and profound understanding of Chinese food culture. One of the students Elīna Ļeščuka shared her thought in the WeChat circle: "Thanks to Director Shang and his wife for telling us about Chinese cuisine. When I watched the PPT, I drooled and longed for food. After watching the PPT, I must go to the Chinese restaurant." We sincerely look forward to the relief of the epidemic, and the students can go to China to study and experience Chinese cuisine culture.
领略中国美食文化
受拉脱维亚大学人文学院中文专业负责人鲍葛薇副教授之邀,拉脱维亚大学孔子学院中方院长尚劝余和夫人张桂英为拉脱维亚大学中文专业三年级学生图文并茂地讲授了中国美食文化。
尚劝余从中国古语"民以食为天"入手,讲授了川菜、粤菜、湘菜、鲁菜、浙菜、苏菜、闽菜、皖菜八大菜系的特色和代表菜肴,揭示了中国美食文化的丰富多彩和博大精深。张桂英从陕西面食入手,讲授了饺子、面条、包子、大饼、花卷、面皮、肉夹馍、凉拌黄瓜、醋溜土豆丝的制作,揭示了中国南北主食的区别和中国与拉脱维亚美食的各自特色。
随后的问答环节,同学们与两位嘉宾进行了互动,对中国美食文化有了更为直观和深刻的理解。雷雅晶同学在微信圈里做了分享:"感谢尚院长和他老婆讲给我们关于中国的食物,看PPT的时候流口水了并饿死了,看了PPT之后我必须去中餐厅。"衷心期待疫情缓解,同学们能够去中国留学,亲身领略和体验中国的美食文化。