Chinese Beginners' Class of Ventspils University's lifelong learning Center Starts as Scheduled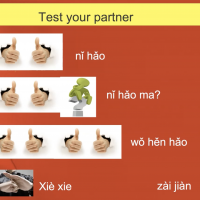 On the evening of October 19th in Latvia, adult students from the Lifelong Learning Center of Ventspils University shown up as scheduled and started the first Chinese class with volunteer teacher Guo Mengran.
The students in the adult class include teachers and engineers, who shine in their respective professional positions gathered in the zoom platform because of the fate of Chinese. At the beginning of the class, volunteer teacher Guo Mengran first introduced himself and said hello to everyone, and then classmates also introduced each other. Everyone has a certain connection with China, Chinese, and Chinese people in their lives. The teacher is very happy to see that they are willing to learn Chinese in their spare time to study more about China.
After everyone made a simple self-introduction, since most of the students are still starting from scratch and do not have any Chinese learning experience and do not know much about China, therefore the teacher showed everyone a promotional video of China's image, in order to providing the students with an initial impression of this mysterious oriental country that blends ancient and modern elements. Then the teacher started the formal teaching with some simple Chinese greetings. After learning the basic greetings, everyone felt a sense of accomplishment and expressed that they could not wait to learn more.
In addition to the basic greeting teaching, the teacher also introduced the HSK curriculum system to everyone, and led the students to learn the initials, vowels and tones, and practice them from the basic content and components of Pinyin. At the end of the class, the teacher asked the students to practice more pinyin. With the blessing of pinyin, they can quickly learn vocabulary and grammar. The teacher believes that everyone can gain more sense of accomplishment in future classes.
After class, the teacher established contact with the students through the Moodle learning management platform, and uploaded the review and preview materials, which can facilitate the students to study anytime and anywhere. Looking forward to the next class!
文茨皮尔斯大学成人零起点汉语班如期开课
在拉脱维亚当地10月19日傍晚,文茨皮尔斯大学终身学习中心的成人同学们如期赴约,与志愿者教师郭萌冉共同开启了第一堂汉语课。
成人班的同学中有老师也有工程师,在各自岗位上发光发热的大家因为汉语的缘分一起相聚在zoom云端,上课伊始,志愿者教师郭萌冉首先进行了自我介绍,与大家问好,紧接着各位同学也互相进行了介绍,大家在生活中或多或少都与中国、汉语、中国人有着一定的联系,很开心看到他们愿意在工作之余通过汉语学习来认识更全面的中国。
在大家做了简单的自我介绍后,由于所有同学们还都是零起点,没有任何汉语学习经历,对中国的了解也不多,于是教师向大家展示了中国形象的宣传片,使同学们对这一古今交融的神秘东方国度有了一个初印象。接着教师以一些简单的汉语问候语学习开始了正式教学,在学会了基础的问候语之后,大家都十分有成就感,纷纷表示已经迫不及待想要学习更多。
除了基本的问候语教学外,教师还向大家介绍了HSK课程体系,带领着同学们从拼音的基本内容和组成部分开始,分别学习了声母、韵母和声调,并进行了练习。在课堂的最后,教师嘱咐同学们要对拼音多加练习,有了拼音的加持,便能很快进入词汇、语法的学习。相信大家能在以后的课堂中收获更多的成就感。
课后,教师通过Moodle学习管理平台与同学们建立了联系,将复习和预习资料进行了上传,能够方便同学们随时随地进行学习。期待下一次的见面!