Ventspils University's Chinese Beginners' Class Starts as Scheduled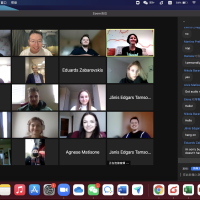 On the evening of October 14th in Latvia, the students of Ventspils University finally ushered in the first Chinese class of this semester. The students' enthusiasm for learning Chinese was very high. A total of 20 students chose to register for Chinese classes and entered the zoom platform on time. They started their Chinese journey this semester with Guo Mengran, a volunteer Chinese teacher.
At the beginning of the class, volunteer teacher Guo Mengran first introduced himself and greeted everyone. As an online teaching, 20 students can be regarded as a big class, so the students also introduced each other immediately. The teacher learned that among 20 lovely students ranging from freshman to junior year and from different majors, some students said because they are interested in Chinese, so they chose Chinese as a course; some students found it very interesting to meet Chinese people because of their experience of previous work, so they came to learn Chinese; and also some students have self-learned Chinese experience, and even dabbled in many Asian languages. As they already have some foundation, they expressed their desire to continue learning Chinese, so they came to the Chinese class.
After everyone made a simple self-introduction, since most of the students are still starting from scratch and do not have any Chinese learning experience and do not know much about China, therefore the teacher showed everyone a promotional video of China's image, in order to providing the students with an initial impression of this mysterious oriental country that blends ancient and modern elements. Then the teacher carried out a quiz activity with some simple Chinese greetings and knowledge of Chinese culture, which brought the students into Chinese learning in the new semester.
In this class, in addition to the basic greeting teaching, the teacher led everyone to understand the basic content and components of Pinyin. Using humorous homophones such as "shuǐjiǎo and shuìjiào", "xióngmāo and xiōngmáo", the teacher showed the students the role of tones in Chinese, and practiced Chinese tones together. At the end of the class, the teacher ended the first lesson with Li Ziqi's Oriental Intangible Cultural Heritage Video Series "Movable Type Printing". The students lamented the magic of ancient Chinese inventions.
After class, the teacher also established contact with the students through WhatsApp. The students sent the content of the first class to the teacher in the form of voice. Seeing that all the students were able to learn Chinese so actively, we believe this semester Chinese class will be a happy time!
在拉脱维亚当地10月14日傍晚,文茨皮尔斯大学的学生们终于迎来了本学期的第一堂汉语课。同学们学习汉语的热情十分高涨,共计20名同学选报了汉语课,并准时进入zoom平台,与中文教师志愿者郭萌冉一起开始了本学期的汉语之旅。
上课伊始,志愿者教师郭萌冉首先进行了自我介绍,与大家问好。作为线上教学,20位同学可算是一个不小的班级,于是紧接着各位同学也互相进行了介绍。教师了解到:20位可爱的同学涵盖了从大一到大三三个年级,分别来自不同的专业,有的学生介绍自己是因为对汉语感兴趣所以选择了汉语这门课;有的学生因为以前工作的原因,接触到中国人觉得十分有趣,所以来学习汉语;有的学生本身有过自学汉语的经历,甚至涉猎过很多亚洲语言,作为已经有一些基础的他们,表示想要继续学习汉语,因此来到了汉语课堂。
在大家做了简单的自我介绍后,由于大多数同学还都是零起点,没有任何汉语学习经历,对中国的了解也不多,于是教师向大家展示了中国形象的宣传片,使同学们对这一古今交融的神秘东方国度有了一个初印象。接着教师以一些简单的汉语问候语及中国文化知识开展竞猜小活动,将同学们带入了新学期的汉语学习。
在第一堂课上,除了基本的问候语教学外,教师带领着大家了解了拼音的基本内容和组成部分。以"shuǐjiǎo和shuìjiào"、"xióngmāo和xiōngmáo"这样幽默的谐音词向同学们展示了声调对于汉语的作用,并对汉语的声调进行了练习。在课堂的最后,教师以李子柒东方非物质文化遗产系列视频之《活字印刷术》结束了第一次课的学习,同学们纷纷感叹中国古老发明的神奇。
课后,教师也通过WhatsApp与同学们建立了联系,同学们将第一堂课所学的内容以语音的形式发送给教师,看到各位同学能够这么积极地学习汉语,相信本学期的汉语课堂将会是一段快乐的时光!