Confucius Classroom at Riga 34 Secondary School, Mid-Autumn Festival Culture Class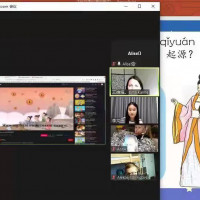 On the evening of September 22nd in Latvia, it is also the Mid-Autumn Festival in China. Due to the impact of the COVID-19 , the students of Confucius Classroom at Riga 34 Secondary School and local teacher Evita and Chinese teacher Li Wenyu together learn and experience the Mid-Autumn Festival online through zoom.
Before the beginning of the class, the teacher played a Mid-Autumn Festival video with Russian subtitles to help students understand the Mid-Autumn Festival, and then displayed and learned Mid-Autumn Festival-related vocabulary in specific teaching sessions. The teacher asked a few questions: "What is the lunar month and day of the Mid-Autumn Festival? How many suns does Houyi shoot down? What is the name of Chang'e's pet? Do you like to eat sweet or salty mooncakes?"  At the same time, the relevant Chinese characters are also studied in this class. Students like to write Chinese characters very much. The teacher also shared a video of making lanterns and mooncakes with the students, and the students said that they would do it after class. Finally, the students hoped to watch the video of the dragon and lion dance in the next class, and the students showed great interest.
At the end of the class, the teacher and classmates recite the ancient Chinese poem "In the Quiet Night " together, and the students celebrated Happy Mid-Autumn Festival with the Chinese!
在拉脱维亚当地9月22日晚,也是中国的中秋节,由于受到新冠疫情的影响,里加34中学孔子课堂的学生们、本土教师艾薇塔与中文教师李文玉一起通过zoom在线上共同学习并体验中秋节。
课堂开始前,教师先播放了带俄语字幕的中秋节视频,帮助学生了解中秋节,然后在具体的教学环节展示并学习了中秋节相关的词汇。教师通过提问几个问题"中秋节是农历几月几日?后羿射了几个太阳?嫦娥的宠物叫什么?你喜欢吃甜的还是咸的月饼?"对本堂课学生的学习情况进行了检查。同时本节课还对相关汉字进行了学习,学生们非常喜欢写汉字。教师还给学生们分享了制作灯笼和月饼的视频,学生表示自己会在课下进行手工。最后学生们希望下一节课可以观看舞龙舞狮的视频,学生们表现出了浓厚的兴趣。
在课堂的最后,教师和同学们共同朗诵中国古诗《静夜思》,学生们用课上学习的中文互相庆祝中秋节快乐!