The Mid-Autumn Festival Culture Lesson of Confucius Classroom at Riga Cultures Secondary School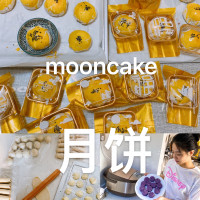 On the evening of September 22, local time, it was the Mid-Autumn Festival in Beijing time. The students in Confucius Classroom at Riga Cultures Secondary  School and Chinese teacher Li Xin enjoyed the bright moon far away from thousands of miles, experienced the festival online, and carried out a rich and colorful Mid-Autumn Festival culture class.
Before the class, the Chinese teacher helped the 12th grade students review the relevant vocabulary of the Mid-Autumn Festival by asking "what do you know about the Mid-Autumn Festival?" and then played a publicity video of the Mid-Autumn Festival culture to let the students know the new knowledge. During the discussion and communication session, some students can share the story of "Chang'e running to the moon" in English. Through Chinese prompts, students can correctly answer the idiom "Chang'e Ben Yue"; In the part of Hou Yi shooting the sun game, students can choose the correct answer according to the key words. The students' performance in this class is very positive. Finally, the teacher shared the methods and achievements of making moon cakes with the students, and the students expressed their desire to come to China to experience the Mid-Autumn Festival in person.
At the end of the class, the teacher presented an ancient poem "the bright moon is rising from the sea, and all the people are enjoying the same moment" to the students. The students actively copied it down and said to each other: Happy Mid-Autumn Festival!
当地时间9月22日晚,正值北京时间的中秋佳节日,拉脱维亚里加文化中学孔子课堂的学生们与汉语教师李欣一起千里共赏明月,云端体验佳节,开展了一堂丰富多彩的中秋节文化课。
课堂开始前,汉语教师通过提问"你所知道的中秋节是什么样的?"的方式,帮助12年级学生回顾了以前所学的中秋节相关词汇,然后给学生播放了一个中秋节文化的宣传视频,让学生温故而知新。在谈论交流环节,个别学生能用英语向大家分享"嫦娥奔月"的故事,教师通过汉语提示,学生能正确回答出成语"嫦娥奔月";在后羿射日游戏环节,学生能根据关键字词选出正确答案,本堂课学生的表现很积极,最后教师给学生们分享了制作月饼的方法和成果,学生纷纷表示想亲自来到中国体验中秋节。
课堂尾声,教师借用一句古诗"海上生明月,天涯共此时"送给大家,学生很积极地抄写下来,并相互祝福:中秋节快乐!