Students from Confucius Institute at University of Latvia Welcome the new Academic Year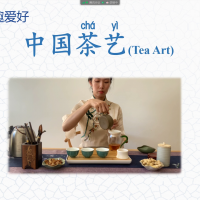 The school bell is ringing in the late autumn. Local time 4 p.m., 14th , September,2021, HSK4 class of Confucius Institute at University of Latvia had their first Chinese class.
Lands parted, tea shared. After Hello from teacher and students, then Tang Laoshi introduce arrangement of the first class. Noticing one of students was interested in her name, Tang Laoshi told about her name's origin, involving the cultural knowledge of Chinese Zodiac, Chinese ancient characters, Chinese name and so on. A student asked teacher why some of given name have one character but some others two. Tang Laoshi was excited in student's passion on the Chinese culture and explained the Chinese name culture to the class patiently.Next, Tang Laoshi introduced her hobby——Chinese tea art.A student said she liked drinking tea too.What's more? Tang Laoshi showed some Chinese words about tea,"茶叶(Tea Leaves),茶壶(Tea Pot)and 茶杯(Tea Cup)". Students also watched a small video about China's 6 tea categories then gave their answers on the "What category does the tea belong to?" question. The class not only enjoyed Chinese study's fun, but also gained a lot of practical knowledge. When it was students' turn to introduce themselves, one student told the class that she was studying the Chinese major in her university and she was fond of China's history and culture. Tang Laoshi asked the class, " What do you like about China? " There are various kinds of answers in HSK4 class, including Chinese flower tea, Chinese songs and Chinese movies and so on.One of students told Tang laoshi that learning Chinese language well and going to China's university are her dreams. Besides these, most of the class' studying goal is passing the HSK4 test, which made Tang Laoshi very moved and push her to give better teaching for the new academic year. During the exchange of hobbies, HSK4 class was getting acquainted gradually. And then, Tang Laoshi made the "class promise" with the class together, such as " Making a all-Chinese class", "Leave our class without any questions", which received students' agreement. The studying content of the new semester also were showed, including the HSK test, language knowledge and skill goal, festival activities and cultural content, which made the class looking forward to such a colorful learning arrangement in the future. At the 10-minute break time, Tang Laoshi played a Chinese song 《Big Fish》,trying to ease students' tiredness and let everybody feel the charm of the Chinese song.
The flower of dreams is blooming secretly when it's time to harvest. HSK4 class' first class was ended by the topic of "Chinese Love Movies". Most of students felt this class was suit for their level and hoped to study Chinese with Tang Laoshi. The teacher encouraged the class and decided to work together with students. After taking the pictures,students said goodbye to teacher with satisfaction. Students have unexpected enthusiasm on Chinese culture,which also lead Tang Laoshi a way forward to improve her teaching and make the class not only learn "something" but also get "somewhere".
秋意渐浓,开学的钟声扬起。当地时间2021年9月14日16时,拉脱维亚大学孔子学院总部成人高级班(HSK4)进行了今年秋季学期的首次线上课程。
山川异域,共嗅一壶茗香。汤老师在课前与学生们寒暄问好,介绍了本次课的内容安排。课前得知,有学生对老师的名字很好奇并提出了一些关于中国名字的相关问题,于是汤老师与学生们分享了自己"名字的故事",其中包含生肖、汉字的甲骨文、中国人姓名等文化知识,有观察仔细的学生提问"为什么有些中国人的名字是两个字,有的是三个字?",学生对中国文化如此感兴趣,汤老师感到很激动,并耐心地跟学生解释了中国的取名文化。接下来,汤老师向学生们介绍了自己的爱好——茶艺,有学生表示自己跟老师一样也喜欢喝茶;汤老师向学生介绍了"茶叶、茶壶、茶杯"等相关名词,通过一个小视频展示了中国6大茶类,并与学生们互动——猜一猜"这是什么茶?",HSK4班的学生都非常积极地说出自己的答案并认真地做下有关茶知识的笔记,在享受学习乐趣的同时,还能收获满满的"干货"。轮到学生们作自我介绍,有位大学在校生告诉大家,自己学的专业是中国学,她还表示特别喜欢中国的历史和文化。在被教师问到"喜欢中国的什么?"时,HSK4班的学生们说了中国的花茶、中国歌曲、中国电影等。还有学生告诉老师,她的梦想是学好汉语,来到中国的大学学习,除此之外,大多数学生表示自己学习本课程的目标是通过汉语水平四级考试。这让汤老师十分感动并大受鼓舞,对新学期的中文教学有着满满的动力。师生们在兴趣爱好交流的过程中慢慢熟悉了起来,汤老师趁着大家热情高涨之时,给学生们介绍了本学期的学习安排,和学生一起进行了"课堂约定",例如"打造一个全中文的课堂","不要带着问题下课"等,学生纷纷表示赞同;汤老师还讲解了本学期的汉语水平考试、语言知识和技能目标、节日活动和文化内容等,学生们对新学期如此丰富多彩的教学安排十分期待。课间休息期间,汤老师播放了中国风歌曲《大鱼》,缓解学生的疲惫之余让大家感受中国歌曲的魅力。
丰收之时,梦想之花悄然绽放。HSK4班秋季学期首次课堂在轻松的"中国爱情电影"话题中拉下了帷幕,在汤老师问及学生对本次课的反馈时,大部分学生觉得难度适中,有学生觉得新课对自己来说有一点点难,但是可以接受并希望能跟着汤老师继续学习,汤老师鼓励学生们的同时表示要和大家一起加油、共同进步。合影留念后,学生们心满意足地跟老师告别。学生们对中文及中华文化的热情超乎了汤老师的预期,也给了汤老师前进的方向:要不断提升自己的教学,让学生们不仅"学有所获"还要"学有所成"。