Celebrate the Mid-Autumn Festival——The First Chinese Class of the Latvian Academy of Culture and the Mid-Autumn Festival Theme Cultural Activities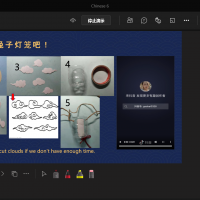 September 23-24, 2021, Riga time. The elementary class of the Latvian Academy of Culture has ushered in the first Chinese class of this fall semester. And the intermediate class started the second week of learning. Students in the two classes successively experienced the cultural connotation and fun of the Mid-Autumn Festival.
The "Mid-Autumn Festival" theme cultural activities are mainly launched from three aspects: festival introduction, festival origin, and festival customs. At the beginning of the class, Miss Huo played the song "Hope for a Long Time" to give students a preliminary experience of the Mid-Autumn Festival. The students lamented that this song is very beautiful. During the festival customs, Miss Huo focused on enjoying moon cakes, playing with lanterns, and having reunion dinners. During the "Enjoying Mooncake" session, students not only learned about the symbolic meaning of mooncakes, but also experienced the process of making mooncakes through the internet. At the same time, in order to better feel the atmosphere of this festival, Miss Huo designed an audio-visual experience, broadcasting the two festivals of "Autumn Moon Ji" and "Crane Returning" in Henan Satellite TV's "Mid-Autumn Festival". The students lamented the Mid-Autumn Festival is wonderful and interesting. After watching the performances, Miss Huo guided everyone to the "Reunion Dinner" link. After understanding the reason and significance of having the reunion dinner, Miss Huo asked the students "What if I can't reunite with my family?" Then she introduced the tradition of ancient people writing poems about the moon, and shared the ancient saying "但愿人长久,千里共婵娟".
Under the guidance of Miss Huo, students in the elementary class had a preliminary experience of Chinese characters, watched the video of the evolution of the character "月", and tried to write the character. Students in the intermediate class made rabbit lanterns and experienced the fun of the Mid-Autumn Festival. Although we are thousands of miles apart, we gather together online to celebrate the Mid-Autumn Festival.
当地时间2021年9月23日到24日,拉脱维亚文化学院初级班迎来了今年秋季学期的中文开学第一课,中级班开始了第二周的学习。中秋意浓,两个班级的学生先后在中文教师霍悦的安排下体验中秋节的文化内涵与乐趣。
此次"浓情中秋"主题文化活动主要从节日介绍、节日起源、节日习俗三个方面展开。上课伊始,霍老师播放歌曲《但愿人长久》,让学生在音乐享受中初步感受中秋节,学生纷纷感叹这首歌曲十分柔美。节日习俗环节,霍老师着重介绍了吃月饼、玩花灯和吃团圆饭。在"吃月饼"环节,学生不仅了解到月饼的象征意义,更是通过云端体验了月饼的制作过程。与此同时,为了更好的感受到浓厚的节日气氛,霍老师还设计了视听体验,播放河南卫视《中秋奇妙游》中的《秋月稷》和《鹤归来兮》两个节目。看过精彩绝伦的表演后,学生都不禁感叹中秋节的热闹与精彩。随后,霍老师引导大家来到"吃团圆饭"的环节,在理解了吃团圆饭的原因与意义后,霍老师向学生提问"如果不能和家人团聚,怎么办呢?"。由此向学生介绍古人对月作诗的传统,并介绍千古佳句"但愿人长久,千里共婵娟"。
初级班学生在霍老师的引导下初步体验汉字,观看"月"字的演变视频,并尝试书写该字。中级班的学生制作兔子灯笼,动手体验中秋节的乐趣。尽管大家相隔千里,但在线上同聚,共同庆祝佳节中秋。