China Day Event in Ventspils University was Held Successfully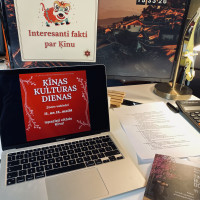 On May 11th and May 13th, 2021 local time, Ventspils University held two China Day events successively. The activity was carried out on the Zoom web seminar platform and was carried out by Alise Plotova, a student of the Confucius Classroom at Ventspils University, through the Junior Achievement Latvia Leader's Program.
The event was attended by Professor Shang Quanyu, Chinese Director of the Confucius Institute at the University of Latvia, Karina Jermaka, President of China Alumni Association of Latvia, the director of Investment and Development Agency of Latvia, and Alise Plotova, a student of the Confucius Classroom at the University of Ventspils, and her friend Elza. In these two days, many participants learned many elements of Chinese culture, including eight lecture topics, such as Chinese, Traveling in China, Business Culture, Traditional food, Tea Culture, Festival and Traditions, Chinese martial arts and some study experience in China, the duration of each topic ranged from forty minutes to one hour. First, Alise played a welcome video from Professor Shang Quanyu to everyone, and introduced the Confucius Institute and the possibilities to learn Chinese in Latvia. Secondly, Karina Jermaka explained the  Chinese language. Then, the business culture in China that everyone was interested in appeared on the scene. The content of these links was very popular. Alise and Elza were responsible for the entire event hosting and management. They said that the two days of activities were very successful and the participants were very active in a happy atmosphere.
Finally, the event allowed participants to have a more comprehensive and detailed understanding of Chinese culture, making the bridge of friendship between China and Latvia more beautiful and stronger.
当地时间2021年5月11日和5月13日,文茨皮尔斯大学先后举办了两场中国日活动。该活动是在Zoom网络研讨平台上进行的,由文茨皮尔斯大学孔子课堂学生Alise Plotova通过青年成就拉脱维亚领袖项目开展。
出席本次活动的有拉脱维亚大学孔子学院中方院长尚劝余教授、拉脱维亚留华同学会会长卡琳娜、拉脱维亚投资开发署负责人、文茨皮尔斯大学孔子课堂学生Alise Plotova和她的朋友Elza以及其他青年学生。在这两天内,许多参与者学到了很多中国文化元素,包括八个演讲主题,例如汉语、中国旅游、商务文化、传统食物、茶文化、节日习俗、中国武术和一些中国学习之旅分享等等,每个主题的时长为四十分钟到一个小时。首先,Alise播放了尚劝余教授对大家的欢迎视频,并且介绍了孔子学院和在拉脱维亚学习中文的途径。其次,卡琳娜女士对汉语这门语言进行了讲解。接着,大家感兴趣的中国商务文化登场了。这些环节的内容都非常受欢迎。Alise和Elza负责整个的活动主持和后台管理工作。她们表示,两天的活动都非常成功,参与者在欢乐的气氛中非常积极。
最后,该活动让参与者们更全面、更详细地了解了中国文化,使得中国与拉脱维亚两国的友谊之桥更加美丽,更加坚固。