Teachers and students of Riga 64 Secondary School celebrate the Spring Festival and welcome the Year of the Ox!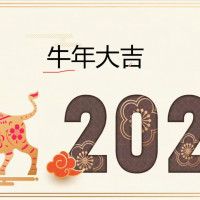 From February 4 to 12, 2021, Riga 64 Secondary School ushered in online culture courses with the theme of "Spring Festival" in a joyous atmosphere. This "Spring Festival" cultural course mainly includes three parts: the origin of the Spring Festival, the Spring Festival customs and the 12 zodiac signs.
Affected by the epidemic, the "Spring Festival" theme of the cultural classes were given online .Despite the distance of thousands of miles, thanks to various distance teaching resources, teachers and students in front of the screen can still feel the strong "New Year flavor".
In order to let the students have a deeper understanding of the origin of the Spring Festival,Fu Jin'er, the volunteer Chinese teacher, played two cartoon vides that vividly tells the origin of the Spring Festival in an easy and interesting way. The students are very interested in it.
Ms. Fu explained the traditional Spring Festival customs in detail , such as "sweeping the dust", "eating New Year's dinner", "setting off firecrackers", "pasting Spring Festival couplets" and "staying up for the New Year", and showed the students red lanterns, "Fu"character, couplets and red envelopes, so that they could understand the long history and cultural connotation behind these Spring Festival customs.
Quite a few students are interested in the Chinese zodiac, they found it really interesting to associate their birthdays with zodiac signs,namely 12 animals.Some students also checked their own zodiac signs in advance, when the teacher talked about their own zodiac signs in class,they can't wait to speak it out.And they felt particularly happy being praised.This kind of active learning attitude is positive.
In addition, the students of Riga 64 Secondary School also actively studied the New Year's greetings and recorded the Latvian Spring Festival Gala greetings video online. In the greetings, we welcomed a fabulous new year.
Wish everyone a happy "Niu" year!
2021年2月4日至2月12日,在一片喜气洋洋的气氛中,里加64中学迎来了以"春节"为主题的线上文化课程。这次"春节"文化课程主要包括三大部分:春节起源、春节习俗和十二生肖。
受疫情影响,此次"春节"主题的文化课采用的是线上教学的方式。尽管远隔万里,但是得益于各种远程教学资源,屏幕前的师生依然能够感受到浓浓的"年味"。
汉语教师志愿者符瑾儿通过播放两个卡通视频让学生们更深入地了解春节的起源,这种卡通视频形象地把春节起源讲得通俗易懂,生动有趣。学生们对此很感兴趣。
符瑾儿老师详细讲解了"除尘"、"吃年夜饭"、"放鞭炮"、"贴春联"以及"守岁"等春节传统习俗,给学生们展示了红灯笼、"福"字、对联和红包等,让他们了解这些春节习俗背后悠久的历史文化内涵。
不少学生对十二生肖感兴趣,他们觉得自己的出生年月和动物联系起来特别有意思,有的学生还提前查了自己的生肖,在课上老师讲到自己的生肖时迫不及待地说出来,得到老师的表扬后感到特别开心与自豪。这种积极主动的学习态度值得肯定。
除此之外,里加64中学的学生还特别积极学习新年祝福语,录制拉脱维亚线上春晚祝福视频,在一声声祝福中,我们迎来了美好的新年。
在此祝愿大家新春快乐!牛年大吉!Happy "牛"Year!