Adults Junior Group at LUCI successfully held Online Spring Festival celebrations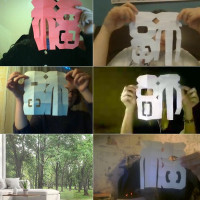 "The jade rat returned to the palace to report a good news, and the golden cattle was striving for the spring tide." To celebrate the arrival of the Chinese New Year, from February 15th to February 18th local time, the Adult Junior Croup at LUCI launched a variety of Spring Festival experience activities on the Webex conference platform.
In the classroom, Zhu Bofan, a volunteer Chinese teacher, first introduced the solar calendar and traditional Chinese lunar calendar to the students, so that the students had a better understanding of Chinese dates. Afterwards, asking students "What would you think of about the Spring Festival?" Aroused students' thinking and started active discussions. Then, a video about the Chinese New Year was played. Starting from the young year, it briefly introduced people's preparation activities to welcome the New Year, and introduced the origin of "Nian" and traditional customs.
In addition, Zhu Bofan explained the terms "Spring Festival, Chinese New Year, Spring Festival Gala, New Year's Eve" and other words, and led the students to watch part of the 2021 Spring Festival Gala, which they found very interesting. After that, taking the New Year's Eve dinner as the topic, She introduced the food during the Chinese New Year and explained the cultural connotation of the expectation for a better life. After the New Year's Eve dinner, it was New Year's greetings. Zhu Bofan introduced to the students the forms of New Year's greetings, the blessings among people, and red envelopes and New Year's money. The students were very curious about this, and some students asked how much money is usually given. Zhu Bofan gave an explanation based on the differences between the north and south of China. By playing the video of sticking couplets and preparing for the New Year, the students got a better understanding of the Chinese New Year. Looking at the various Chinese snacks, lively firecrackers, and beautiful fireworks, the students expressed their desire to come to China to experience the New Year. In order to further feel the Chinese New Year, Zhu Bofan took the students to cut the word "Fu" together. This is also the first paper-cut work of the students in this class. Everyone is very serious and happy. Of course, there are many blessings. The students also recorded a video together to send their blessings to everyone. In addition to the simple blessings, everyone also read the verse "Yuan Ri" aloud together to feel the good wishes of the ancient Chinese for the New Year. The students also learned to sing the song "Gong Xi Fa Cai", the whole class was full of laughter, so lively!
Although we are far away, the charm of Chinese and the enthusiasm of the students have closely linked us. We believe that the cold winter will pass, and spring will come soon. We wish you all a happy Chinese New Year!
"玉鼠回宫传捷报,金牛奋地涌春潮"。为庆祝中国新年的到来,当地时间2月15日-2月18日,拉脱维亚大学孔子学院成人初级班在Webex会议平台展开了丰富多彩的春节体验活动。
在课堂上,汉语教师志愿者朱柏帆首先向同学们介绍了阳历和中国传统阴历,让同学们对中国的日期有了进一步了解。之后询问学生"关于春节,你会想到什么?"引发学生思考,并展开了积极讨论。接着,播放了一段关于中国春节的视频,从小年开始,简单介绍了人们为了迎接新年所做的准备活动,并对"年"的起源及传统习俗等做了介绍。
此外,朱柏帆老师对"春节、过年、春晚、除夕"等词语做了解释,并带领同学们观看了部分2021年春节联欢晚会,同学们觉得十分有趣。之后,以年夜饭为话题,介绍了中国春节期间的美食,并诠释了其中对美好生活期盼的文化内涵。年夜饭之后就是拜年了,朱柏帆老师向同学们介绍了春节拜年的形式,人们之间的祝福,以及红包与压岁钱。同学们对此非常好奇,还有同学询问一般是给多少钱,朱柏帆老师根据中国南北方的不同做出了相关解释。通过播放贴对联、准备年货的视频,让同学们更进一步了解了中国新年,看着五花八门的中国特色小吃、热闹的鞭炮、美丽的烟花,同学们纷纷表示想来中国体验一次新年。为了进一步感受中国新年,朱柏帆老师带着同学们一起剪了"福"字,这也是该班同学们的第一幅剪纸作品,大家都非常认真。当然,祝福语是不会少的,同学们还一起录了视频,将自己的祝福送给每一个人。除了简单的祝福语,大家还一同朗读了诗句《元日》,感受中国古人对新年的美好祝愿。最后,同学们还学唱了歌曲《恭喜发财》,整个课堂充满了欢声笑语,好不热闹!
尽管远隔万里,但是汉语的魅力、学生的热情还是将我们紧紧地联系在了一起。我们相信寒冬总会过去,春天即将到来。祝大家新春快乐,牛年大吉!