Vidzeme University of Applied Sciences successfully launched Chinese online courses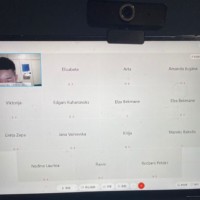 At 17:30 on the afternoon of November 3rd, local time, the online Chinese class at the Vidzeme University of Applied Sciences was successfully launched on the Webex platform. This is the fifth time that a Chinese teacher has given a Chinese class to first-year exchange students. The atmosphere in the class is enthusiastic. The students are also very cooperative during the interaction. In the short one and a half hour Chinese class, the students not only practiced Chinese characters, new words, but also Learned simple communicative language. Chinese teacher learned through investigations that these students not only choose Chinese to gain credits, but also want to change the future by learning Chinese, so they are very serious and active in class.
Vidzeme University of Applied Sciences has three Chinese language courses, which are exchange students for the first year, second year and first year. The selected textbook is "HSK Standard Course". Although the exchange students have never been exposed to Chinese, they are very active in class. Everyone actively turns on their camera during class so that Chinese teachers can observe in real time. To the facial expressions of each student and whether the students are listening attentively during class.
The theme of this course is "She is My Chinese Teacher". The students have already mastered the basic rules of Chinese pronunciation. They can read new words or sentences according to Chinese pinyin. The Chinese teacher asks the students to read the new words in a train. And let the students solitaire select other students for pronunciation training in the form of games, making the course more interesting. Exchange student Tom said that he likes this kind of interaction, which makes boring voice learning fun. In order to make the courses higher quality and more interesting, volunteer Chinese teachers began to delve into the teaching materials one week before the class, and actively prepare the lessons, so that the students have a good sense of class experience.
Every volunteer Chinese teacher has put great enthusiasm and hard work into his position, hoping that the cause of Chinese international communication can be further developed and be loved by more and more foreigners, so that people all over the world can understand the charm of Chinese.
当地时间11月3日下午17点30分,维泽梅应用技术大学的线上汉语课堂在Webex平台顺利开展。这是汉语教师第五次给一年级交换生上汉语课,上课氛围热烈,在互动过程中学生们也十分配合,在短短的一个半小时的汉语课堂里,学生们不仅练习了汉字、生词,还学会了简单的交际用语。汉语教师通过调查得知,这些学生选修汉语不仅仅只是为了获得学分,还想通过学习汉语改变未来,因此他们在上课过程中都十分认真。
维泽梅应用技术大学一共有三个汉语学习班,分别是一年级、二年级和一年级交换生。选用的教材是《HSK标准教程I》,虽然交换生们从来没有接触过汉语,但是在课堂上表现的十分积极,上课过程中每个人都主动打开自己的摄像头,以便教师观察监督。
此次课程的主题是《她是我的汉语老师》,学生们已经初步掌握了基本的汉语发音规则,能够根据汉语拼音读出生词或者句子,汉语教师让学生们以接龙游戏的形式轮流读生词,进行发音训练,使得课程更具趣味性。交换生汤姆表示,他很喜欢这种互动形式,使枯燥的语音学习变得有趣起来。汉语教师为了使课程质量更高、更具有趣味性,在上课前一周就开始钻研教材,积极备课,让学生们获得良好的上课体验感。
每一位汉语教师志愿者都在其岗位上投入了巨大的热情与心血,希望汉语国际传播事业能得到进一步的发展,受到越来越多外国人的喜爱,让世界各国人民了解汉语的魅力。