A Chinese Public Class of the Faculty of Humanities of Daugavpils University was Successfully Held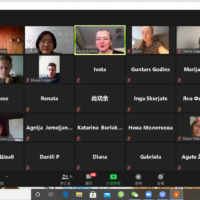 At 11:30 local time on October 24th, Daugavpils University successfully held an online public class with the theme of " Happy Chinese ". Ms.Maijia Burima, the Vice President of Daugavpils University, Professor Shang Quanyu , the Chinese director of the Confucius Institute at University of Latvia, Ms.Wang Lu, the Chinese teacher and middle school students from 19 different high schools in Latvia attended the course. Zoom is used to teach online.
First of all, Ms.Maijia Burima introduced the curriculum of the faculty of humanities of Daugavpils University, Confucius Classroom and the basic situation of Chinese teaching and briefly introduced Professor Shang Quanyu and the Chinese teacher to the students, and then Professor Shang and the Chinese teacher introduced themselves. Then, Chinese teacher Wang Lu started the course with the question of " What do you know about China ", showed students photos of previous interest classes and public classes, explained Chinese tones, practiced common sentences, and wrote Chinese characters with numbers from 1 to 10, taught vivid pictographs using pictures and taught Chinese pronunciation and characters about different countries' names. Finally, Maijia Burima affirmed the lively Chinese course and thanked Professor Shang and the Chinese teacher.
This public class made students have a chance to touch Chinese language and understand it, learn basic Chinese knowledge, and cultivates students' strong interest in Chinese language and culture.
当地时间10月24日上午11点半,道加瓦皮尔斯大学成功举办了一堂主题为"快乐汉语"的线上公开课。道加瓦皮尔斯大学副校长Maijia Burima女士、拉脱维亚孔子学院中方院长尚劝余教授、汉语教师王璐和来自拉脱维亚19所不同高中的中学生们参加了本次课程,此次宣讲课采用了Zoom来进行网络授课。
首先,Maijia Burima女士介绍了道加瓦皮尔斯大学人文学院的课程设置、孔子课堂和汉语教学情况,并向学生们简单介绍了尚劝余教授和汉语教师,再由尚教授和汉语教师分别进行自我介绍。接着,汉语教师王璐以"你所知道的中国"为题开始了本次课程,向学生展示以往兴趣班和公开课的活动照片,讲解汉语声调,练习常用句,书写数字1到10的汉字,利用图片讲授生动的象形字,教授不同国家名称等汉语读音及汉字。最后,Maijia Burima对汉语教师生动活泼的课堂表示了肯定,并向尚教授和汉语教师表示了感谢。
此次汉语公开课让学生接触和认识汉语,学到了基础的汉语知识,培养了学生对中国语言文化的浓厚兴趣。