Online Mid-Autumn Festival Cultural Class Launched at Riga Technology University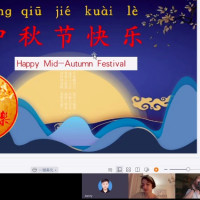 On October 5-6, 2020,local time, the Level 1-3 students in Confucius Classroom at Riga Technology University had a "special" culture class for the Mid-Autumn Festival. Affected by the epidemic, some Chinese courses in Confucius Classroom at Riga Technology University are online, which are undertaken by Chinese volunteer teacher Jia Kunnuo in China. As China's Mid-Autumn Festival is coming soon, students in the Confucius Classroom at Riga Technology University also received blessings from thousands of miles away. As the famous ancient Chinese poem said "Wish us a long life to share the graceful moonlight, though thousands of miles apart", Chinese volunteer teacher Jia Kunnuo said, "although we are far away, we share a full moon. I wish you all the best."
In this cultural class of the Mid-Autumn Festival, the students learned about the time, legends, main customs and greetings of the Mid-Autumn Festival, and learn the relevant Chinese expressions and master the "mid-autumn Festival" writing methods.The teacher told the students that the Mid-Autumn Festival, as the most important traditional festival except the Spring Festival,is significant to Chinese people. It represents reunion and happiness.
In order to make up for the lack of experience in this cultural lesson and further stimulate students' interest, the teacher showed them the animated video related to the mid-autumn Festival, listened to the song version of Shui Diao Ge Tou, and learned the famous poem "thinking in the still night" to express homesickness.
The students said they enjoyed the class very much. The teacher was like a pair of eyes, showing them every bit of Chinese culture.The development of modern distance education technology provides various possibilities for the interest and interaction of online teaching activities, and also provides effective assistance for teachers to enrich teaching.In the future, we look forward to promoting more cultural exchanges between China and foreign countries relying on the platform of science and technology.
当地时间10月5至6日,里加工业大学大学孔子课堂初级、中级和高级学生分别上了一堂"特别"的中秋节文化课。受疫情影响,里加工业大学孔子课堂的汉语课程改为线上形式,由汉语志愿者老师贾昆诺在国内承担。正值中国的中秋佳节来临之际,里加工业大学孔子课堂的学生们也收到了来自远隔千里的祝福。正如那句有名的中国古诗"但愿人长久,千里共婵娟",汉语志愿者老师贾昆诺说"我们虽然离得很远,但同享一轮圆月,祝你们一切顺利。"
在这节中秋节文化课上,学生们了解了中秋节的时间、故事传说、主要习俗和祝福语,学习了相关的汉语表达并掌握"中秋节"的书写方法。老师告诉学生,中秋节作为除春节以外最重要的传统节日,对中国人的意义不同寻常,它代表着团圆、幸福、美满。为了弥补这堂文化课缺乏体验的不足,进一步激发学生的兴趣,老师带大家观看了与中秋节相关的动画视频,聆听歌曲版《水调歌头》,学习了表达思乡之情的著名诗词《静夜思》等。学生们表示非常喜欢这堂文化课,老师就像一双眼睛,带他们观看中国文化的一点一滴。
现代远程教育技术的发展为线上教学活动的趣味性和互动性提供了多样的可能,也为教师丰富教学的开展提供了得力的辅助。今后,我们期待依托科学技术平台促进更多的中外文化交流。