Confucius Institute at University of Latvia holds a discussion on "Fellow-villager Anze"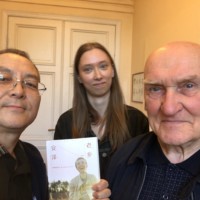 On September 10, 2020, the Confucius Institute at the University of Latvia held a discussion on " Fellow-villager Anze". Anzelika Smirnova graduated from the University of Latvia with a major in Chinese. She is a student of Professor Pildegovics, Latvian Director of the Confucius Institute. After participating in the Chinese Bridge competition, Anzelika studied in China and worked as a TV host. " Fellow-villager Anze" is published by Jiangxi Education Press and is the first book written in Chinese by Latvians. This book has been translated into Latvian and will be published by Latvian University Press.
The two directors of the Confucius Institute, Professor Pildegovics and Professor Shang Quanyu, introduced the story of Anzelika and their thoughts after reading this book. First of all, the title and cover design of this book are very attractive. The author Anzelika is standing in the golden rice field illuminated by the setting sun and she looks very happy. The scene is warm and romantic. What exactly is written in the book " Fellow-villager Anze"? Readers can't wait to find out. Secondly, the text expression is very smooth, the writing style is vivid and interesting, catchy, fresh, natural, beautiful, and humorous, using anthropomorphic metaphors, giving people a wonderful text and language enjoyment. Thirdly, the content is rich and touching. Taking the rural theme as the topic, it describes the theme of China's rural revitalization and new rural construction. What is written in the book is the author's personal experience, real examples, vivid stories, full of true feelings, and full of nostalgia and local feelings. Finally, the book not only contains real examples and vivid stories, but also has real feelings. It is also interspersed with Anzelika's own stories and Latvian stories. It is moving and rewarding.
Jiangxi Education Publishing House has published many excellent books in recent years, and " Fellow-villager Anze" is one of them. We believe that this book will be widely welcomed by readers.
2020年9月10日,拉脱维亚大学孔子学院举办《老乡安泽》座谈会。安泽毕业于拉脱维亚大学中文专业,是孔子学院拉方院长贝德高教授的学生,参加汉语桥比赛后在中国留学并做电视节目主持人。《老乡安泽》由江西教育出版社出版,是第一本由拉脱维亚人用中文写的书,这本书已经翻译成了拉脱维亚语,即将由拉脱维亚大学出版社出版。
孔子学院两位院长贝德高教授和尚劝余教授向大家介绍了安泽的故事以及读了这本书之后的感想。首先,这本书的书名和封面设计非常吸引人。作者安泽站在夕阳余晖照射下的金灿灿的稻田里,非常开怀,画面温馨而浪漫,《老乡安泽》到底写了什么?读者迫不及待地想一探究竟。其次,本书文字表达非常流畅,文笔和文风生动有趣,朗朗上口,清新,自然,优美,幽默,运用了拟人化的比喻手法,给人以美妙的文字和语言享受。再其次,本书内容丰富感人。本书以农业农村农民为题材,反映了中国乡村振兴,新农村建设的主题。书中所写都是作者本人的亲身经历,真实事例,鲜活故事,充满了真情实感,充满了浓浓的乡情乡音和乡土情怀。最后,本书不仅有真实事例和鲜活故事,而且有感想感悟感触,也穿插着安泽自己的故事和拉脱维亚的故事,读起来令人动容,又受益匪浅。
江西教育出版社近几年出版了不少很优秀的书籍,《老乡安泽》就是其中之一。我们相信,这本书将会受到读者的欢迎与喜爱。