Confucius Classroom at Daugavpils University Held the First Chinese Graduate Examination Successfully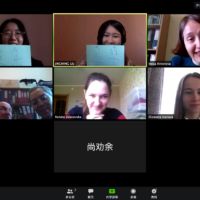 当地时间2020年5月27日上午九点,道加瓦皮尔斯大学孔子课堂第一届中文选修课学生毕业考试顺利通过。本次考试采取了线上使用Zoom软件考试的形式,由外语部教学秘书Inesa Antonova 主持,道加瓦皮尔斯大学副校长Maijia Burima女士开场亲自坐镇,拉脱维亚孔子学院中方院长尚劝余教授和拉方院长贝德高教授出席了本次考试,他们作为重要评分人与两位汉语教师一起为学生的表现打分。
在本次考试开始前,Inesa Antonova就与两位教师进行了多次沟通,并在Zoom上开会说明具体的考试流程。校方和两位院长也对Zoom软件进行了多次调试,确保考试当天可以顺利进行。此次考试分为笔试和口试部分。本着公平公正公开的原则,考试当天由Inesa Antonova亲自抽签,并公开抽签号码,再把对应的试卷分别发给学生进行在线答题。学生答题结束后,再提交给秘书,由秘书分别发给四位评分人。接着学生分别开始进行口试部分,由两位院长对学生进行中文提问,学生必须用中文回答。然后,秘书把学生移入等候室,四位评分人在线讨论出学生的最终成绩。最后,在学生的同意下,秘书公布了学生的成绩,在两位院长向学生表示祝贺的同时,两位老师也展示了亲自写的"毕业快乐"贴纸,表达美好的祝福。
此次毕业考试不仅是道加瓦皮尔斯大学的一个重要时刻,也是道大孔子课堂历史上的重要的一页。这一页记载着学生几年来的奋斗与成长,在这里终于告一段落了。但这不是汉语学习之路的尽头,而是一段新的旅程的开始。祝福所有的学生与老师前途光明,未来可期。
At 9: 00 a.m. local time on May 27, the students of the first Chinese elective course in Confucius classroom at Daugavpils University successfully passed the graduation examination. The examination was conducted in the form of an online test using Zoom software, hosted by Inesa Antonova, the teaching secretary of the Foreign languages Department. Ms. Maijia Burima, the vice rector of Daugavpils University, Professor Shang Quanyu and Professor Peteris Pildegovics, the two directors of the Confucius Institute at University of Latvia attended the exam. As important graders, two directors scored the students' performance together with the two Chinese teachers.
Before the start of this exam, Inesa Antonova communicated with the two teachers many times and held a meeting to explain the specific examination process. And the two directors also used the Zoom software in advance to ensure that the exam could be carried out smoothly on the day of the exam. The exam was divided into written and oral parts. In accordance with the principle of fairness and openness, Inesa Antonova personally drew lots on the day of the examination, publicized the drawing number, and then sent the corresponding test papers to the students to answer questions online. After the students have finished answering the questions, they submitted the papers to the secretary, who sent the answering papers to the four graders. Then the students began to conduct the oral examination respectively, in which the two directors asked the students questions in Chinese, and the students answered them in Chinese. Then, the secretary moved the students into the waiting room, and the four graders discussed the students' final grades. Finally, with the consent of the students, the secretary announced the students' grades. While the two directors congratulated the students, the two Chinese teachers also showed the "Happy graduation" sticker written by themselves to express their best wishes.
This graduation examination is not only an important moment for Daugavpils University, but also an important page in the history of Confucius classroom. It records the growth of students over the past few years, and it has finally come to an end here. While this is not the end of the road to learn Chinese, but the beginning of a new journey. We wish all students and teachers a bright future.