Chinese Teachers of Confucius Classroom at Daugavpils University were Interviewed by Local Media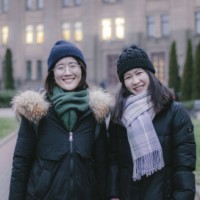 当地时间2019年12月13日下午2点,道加瓦皮尔斯大学孔子课堂两位汉语教师接受当地媒体采访报道,采访主题为"外国人眼中的道加瓦皮尔斯"。
首先,记者询问了两位汉语教师的基本信息。随后,开始正式的采访。当被问到为什么会选择来到道加瓦皮尔斯大学教汉语时,两位老师都表示,希望让更多的人学习汉语知识,了解中国文化。当谈到道加瓦皮尔斯这座城市的时候,两位老师觉得,这是拉脱维亚东部地区一个具有自身特色的城市,平时生活工作很便利,具有深厚的文化底蕴。刘晶铭说自己最喜欢"ROTHKO"这个道加瓦皮尔斯市的著名景点,每次朋友来到道加瓦皮尔斯,都会带他们去参观。王璐说Latgale区图书馆是自己最喜欢去的地方,平日里常常会去那里学习看书。记者提问"如果你们是道加瓦皮尔斯的市长,你们会做什么使这座城市变得更好?"刘晶铭说加强城市宣传,吸引外商投资,从而促进当地经济发展。王璐回答说加强道路建设,促进当地旅游业的发展。最后,两位汉语教师说道,欢迎更多的人学习汉语,学习中国文化。
本次交谈,不仅让两位汉语教师了解到当地更多的风土人情,而且也让当地人加深了对中国人的了解,还拉近了中拉两国的距离。
At 2 pm local time on December 13th, 2019, two Chinese teachers of Confucius Classroom at Daugavpils University accepted an interview by the local media. The subject of the interview was "Daugavpils in the eyes of foreigners".
Firstly, the reporter asked about the basic information of the two Chinese teachers. Then, a formal interview began. When asked why they chose to teach Chinese at Daugavpils University, both teachers stated that they wanted more people to learn both Chinese language and culture. When it comes to the city Daugavpils, two teachers felt that this is a city with its own characteristics in eastern Latvia. It is convenient for daily life and work, and there is a profound cultural heritage. Liu Jingming said that she liked "ROTHKO" , which is the famous spot in Daugavpils. If friends of hers come to Daugavpils, she will take them to visit it. Wang Lu said that the library in Latgale district was her favorite place to go to study and read books on weekdays. The reporter asked "If you are the mayor of Daugavpils, what would you do to make this city better? " Liu Jingming said she would strengthen urban publicity and attract more investment to promote local economy. Wang Lu answered that road construction should be strengthened to promote the development of local tourism. Finally, two Chinese teachers said that more people are very welcome to learn Chinese language and culture.
This conversation not only allowed two Chinese teachers to learn more about the local customs, but also allowed local people to deepen their understanding of Chinese people, and also narrowed the distance between China and Latvia.