Chinese New Year Event was Held in Confucius Classroom at Daugavpils University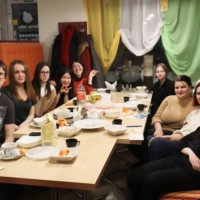 当地时间2020年2月10日下午五点三十分,道加瓦皮尔斯大学孔子课堂成功举办春节活动,道加瓦皮尔斯大学一年级、兴趣班的学生以及两名汉语教师参加了本次活动。
首先,学生将带有"春"字、"熊猫"等图案的剪纸贴在窗户上,感受节日氛围。接着,汉语教师教大家认读"新年快乐"和"春节快乐",送上节日祝福。教师先示范如何踢毽子,学生们分成两组进行比拼。比赛结束后,两位汉语教师给大家送上了新年礼物。随后,大家来到一家中餐馆,开始包饺子。学生自己动手擀皮、包饺子,最后大家一起品尝味道,体验了中国春节的传统习俗。活动结束后,所有人一起合影留念。
此次春节活动通过贴窗花、踢毽子和包饺子等传统习俗,让学生在活动中体验中国文化,感受节日氛围。
At 5:30pm local time on February 10th, 2020, the the Spring Festival Event was successfully held in Confucius Classroom at Daugavpils University. The first-year students of Daugavpils University, interest classes, and two Chinese teachers participated in the event.
First of all, students stuck paper-cuts with "Spring" and "Panda" patterns on the windows with the feelings of the festive atmosphere. Then, the Chinese teacher taught everyone to read out "Happy New Year" and "Happy Spring Festival" in Chinese and sent festival wishes. The teacher firstly demonstrated how to kick a shuttlecock, and then the students were divided into two groups to compete. After the competition, two Chinese teachers gave everyone a New Year gift. Later, teachers and students came to a Chinese restaurant and started making dumplings. The students rolled the dough and made dumplings by themselves. Finally, everybody tasted dumplings and experienced the traditional customs of the Chinese New Year. When the event finished, everyone took a group photo together.
This Spring Festival event would allow students to experience Chinese culture and the festival atmosphere through traditional customs such as paper-cuts for window decoration, shuttlecocks and dumplings.