2020 "The Rat Talks" Chinese New Year Paper-Cutting Exhibition Held at the University of Latvia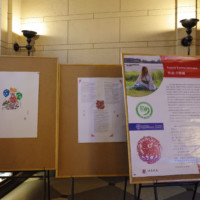 当地时间2020年1月24日,由拉脱维亚留华同学会和拉脱维亚大学孔子学院共同举办的"鼠我直言"新春剪纸展在拉脱维亚大学主楼大厅正式拉开帷幕。
本次展览的作者是拉脱维亚留华同学会会长卡琳娜女士,她从小对中国传统文化非常喜爱,2012年到中国上海留学,有机会接触到了中国的传统文化课,对剪纸产生了极大的兴趣。之后她将这项传统艺术带回了拉脱维亚,并孜孜不倦地创作了很多剪纸作品。这次展览的主题是"鼠我直言",鼠年说鼠,一幅幅精巧的剪纸为我们呈现了栩栩如生的鼠的故事。
本次展览将持续到2020年2月7日,欢迎各界朋友莅临参观!
On local time January 24, 2020, the Chinese New Year Paper Cutting Exhibition, organized by the Latvian Overseas Chinese Association and the Confucius Institute at the University of Latvia, officially opened in the lobby of the University of Latvia's main building.
The author of this exhibition is Ms. Karīna, the president of the Latvian Overseas Chinese Association, who loved Chinese traditional culture since she was a child. She studied in 2012 in Shanghai, China, and had the opportunity to come into contact with Chinese traditional culture classes, which greatly stimulated the interest in paper-cutting. She then brought this traditional art back to Latvia and worked tirelessly to create many paper-cutting works. The theme of this exhibition is "The Rat Talks". In the year of the Chinese zodiac of rat, we should talk about rats, and the exquisite paper-cuttings present us with vivid stories of rats.
This exhibition will continue until February 7, 2020. Welcome all the friends come and visit!