Spring Festival Activity of 2020 successfully held in Liepaja University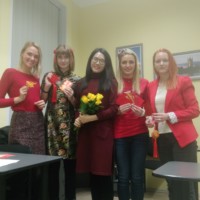 2020年春节将至,汉语教师志愿者伍淑仪于当地时间1月23日在利耶帕亚大学汉语初级班举行了春节文化主题活动。
活动在欢快的迎春歌曲中展开,师生们穿上了喜庆的红色着装迎接中国新年。汉语教师伍淑仪首先教学生在春节相互问好的话语和手势,学生们觉得很有趣。接下来,学生通过观看除夕的神话故事动画片了解除夕的来源,教师在黑板上讲解"除夕"和"去年"的含义,学生恍然大悟。教师问学生是否知道今年是哪一种动物为代表,学生都知道是老鼠,但知其然不知其所以然。于是教师给学生们展示了十二生肖的视频,还让学生找出自己的生肖。有两个学生的生肖是龙,他们对"龙"感到很惊奇,教师为学生讲解了东方的龙和西方的龙的区别,学生为自己出生于龙年而感到开心。然后,教师通过图片和视频的方式展示了除夕的习俗,包括贴对联、买年花、吃鱼、发红包等,并解释了其中的含义。还分享了春节期间的习俗,比如走亲戚,年初二会娘家等。此外,当然少不了学习过年的祝福语。教师为学生准备了一份惊喜,那就是红包。每位同学抽取一个红包,里面有一张纸条写着一句祝福语,该祝福语对应一份新年礼物。学生们喜出望外,欢呼雀跃。
除了抽奖以外,教师还准备了游戏和中国文化体验活动。首先进行游戏《你是我的眼》,学生两人一组,完成"新""年""快""乐"四个字的拼音书写,最快者获胜。教室里顿时充满了笑声和欢呼声。最后,教师教学生用不同颜色的纸剪"春"字,学生乐在其中,非常有成就感。
本次活动成功举办,学生满载而归。中国春节是中国最隆重的节日,也是最有中国特色的节日,包含着许多优秀的传统文化。学生表示非常喜欢这样的活动,并且希望日后有更多中国文化活动。
Chinese New Year of 2020 is coming soon. Chinese teacher volunteer Shuyi Wu held a Spring Festival Activity in Liepaja University in 23rd of January.
The activity started with cheerful music. All people were in red dress in order to welcome the Chinese New Year. First of all, Chinese teacher Wu Shuyi taught students greetings and gesture which people use during Spring Festival. Those made students feel interesting. Then, students knew the legend of Chuxi through the cartoon. After the teacher explained the meaning of "Chuxi (new year's eve) " and "Qunian(last year) ", students had a clear understanding. Students were asked if they know the zodiac of this year. They said it is rat year but they don't know why. Then the teacher showed a video of zodiac and asked students to find out what zodiac is it in their birth year. Some students regarded the dragon as a special species. After the teacher explained the difference between Chinese dragon and western dragon, they are happy with this zodiac. Besides, the teacher showed the costumes of New Year's Eve including buying couplets and mandarins, eating fish and giving the hongbao through pictures and videos and explained their meanings. The costumes in Spring Festival were also introduced including visiting relatives and visiting the parents etc.. There is one thing that all people need to learn, that is saying some wishes in Chinese. The teacher prepared a surprise for all which is hongbao. Everyone can choose a hongbao, inside there is a paper with a wish on it. The wish decided a related gift. This lottery made students excited and cheered.
What's more, there are game and Chinese culture experiencing activity. The game called "You are my eyes". Students worked in pairs to write the correct pinyin on the characters of "新"年""快"乐". The fastest group would be the winners. At last, students learned paper cutting. They chose papers in different colors to cut Chinese character "春(spring)".They enjoyed a lot.
The activity was successfully held and the students also learned a lot of knowledge. The Spring Festival is the most important festival in China and also the specialist one. It shows excellent traditional cultures. Students expressed their like for this kind of activity and looked forward to more interesting lessons in the future.