Riga Children's Hospital successfully held the "The Celebration of Chinese Spring Festival" activity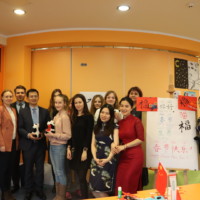 拉脱维亚当地时间1月22日下午两点,里加儿童医院成功举办了"欢庆春节"活动。
本次活动由中国驻拉脱维亚大使馆主办,拉脱维亚大学孔子学院协办。中国驻拉脱维亚大使馆孙应来参赞,拉脱维亚外交部两位代表,拉脱维亚大学孔子学院中方院长尚劝余,孔子学院汉语教师志愿者邹亚平、王昕、黄天祺、陈莹,及里加儿童医院相关负责人参与了本次活动。活动最初,孙应来参赞用拉脱维亚语向活动参与者讲解了春节的意义,并为小朋友们送上了最诚挚的新年祝福。随后,里加儿童医院负责人就本次活动发表讲话。
本次体验活动主要包括三个部分。首先,孔子学院汉语教师邹亚平向大家简单介绍了春节的来历、习俗及问候语等相关内容,并与孩子们进行了"孩子教拉语,老师教汉语"的亲密互动,孩子们在轻松愉快的氛围中学习了"你好、春节、春节快乐、鼠"等基础词汇;第二部分,孔子学院汉语教师王昕向孩子们展示了立体"春"字剪纸的制作过程,并带领孩子们一起制作立体"春"字;第三部分,孩子们在孔子学院汉语教师黄天祺、陈莹的带领下体验了用中国传统书法书写春节"福"字,并手工制作了可爱的小老鼠。
活动最后,孙应来参赞与孔子学院汉语教师们一起为孩子们送上了新年礼物——熊猫玩偶和藏有祝福的红包,孩子们拿到礼物后都非常兴奋,脸上一直挂着满足的笑容。
此次活动全程紧凑而充实,期间充满着笑语欢声,活动不仅加深了孩子们对中国文化的认识,同时也为孩子们送去了温暖的关心与爱。
At 2 pm local time in Latvia on January 22nd, Riga Children's Hospital successfully held the "The Celebration of Chines Spring Festival" activity.
The activity was hosted by the Chinese Embassy in Latvia and co-organized by the Confucius Institute at the University of Latvia. Mr. Sun Yinglai, Counsellor of the Chinese embassy in Latvia, representatives of the Latvian Ministry of Foreign Affairs, volunteer Chinese teachers from the Confucius Institute-Zou Yaping, Wang Xin, Huang Tianqi, Chen Ying and relevant leaders of the Riga Children's Hospital participated in the activity. At the beginning of the activity, Counsellor Sun Yinglai explained the meaning of the Spring Festival to the participants and sent the most sincere New-Year greetings to the children. Later, the leader of the Riga Children's Hospital gave a speech about the activity.
This activity consists of three parts. First of all, Zou Yaping, the Chinese teacher at the Confucius Institute, briefly introduced the origins, customs and greetings of the Spring Festival, and had a close interaction with the children, "Children teach Latvian, teacher teach Chinese". Children learned some basic words such as "Hello, Spring Festival, Happy Spring Festival, Rat". Secondly, Wang Xin, the Chinese teacher of the Confucius Institute, showed the children the process of making a three-dimensional "Chun", and then led the children to make three-dimensional "Chun" together. Thirdly, under the leadership of Chinese teachers Huang Tianqi and Chen Ying, the children experienced writing the Chinese character "Fu" in traditional Chinese calligraphy and made cute little mice.
At the end of the activity, Counsellor Sun Yinglai and the Chinese teachers gave the children New Year gifts—a panda doll and a red envelope with blessings. Every children was pretty excited after receiving the gift.
The activity not only deepened the children's understanding of Chinese culture, but also sent warm care and love to the children.