Jaunmarupe Elementary School Chinese Spring Festival Cultural Experience–to Make Window decoration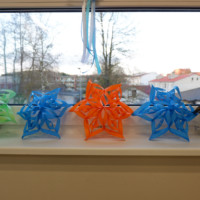 当地时间2020年1月13日下午,新马露白小学成功举办了一场文化体验活动——剪窗花。5位来自不同年级的小学生们参加了此次活动。
贴窗花是中国春节节日里的一个重要环节,窗花不仅烘托了喜庆的节日气氛,而且也能为人们带来美的享受。这次汉语老师为学生们展示了漂亮的窗花图案,课堂一开始,学生们欣赏了漂亮的窗花图案,汉语老师特意选择了精美的立体窗花,并介绍了制作方法,学生们很快开始投入制作,虽然过程中遇到了一些小困难,但是他们认真努力,最终完成了精美的窗花。
这次活动学生们体验到了中国春节传统习俗,提高了动手能力,增加了学习汉语的热情,以后这种文化活动要扩大宣传,让更多的学生体验中国文化。
Local time on the afternoon of January 13, 2020, Jaunmarupe Elementary School successfully held a Chinese Spring Festival cultural experience activity—to Make Window decoration. Five elementary students from different grades participated in the event.
The window decoration is an important part of the Chinese Spring festival. The window decoration not only set off the festive atmosphere, but also brought beauty to the people.  At the beginning of the class, the students appreciated the pictures. The Chinese teacher specially selected the exquisite three-dimensional window pattern and introduced the production method. The students soon started to cut and fold. Although they encountered some small difficulties in the process, they finally finished the exquisite window decoration.
During this activity, students experienced the traditional customs of the Chinese New Year, improved their practical skills, and increased their enthusiasm for learning Chinese. In the future, such cultural activities should be exaggerated and publicized so that more students can experience Chinese culture.