"We All Love Chinese"-Chinese Game Competition for Adult Elementary Group of LUCI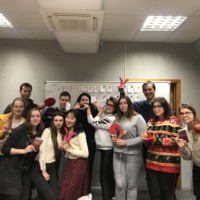 当地时间12月18-19日,拉脱维亚大学孔子学院成人初级班展开了妙趣横生的"我们都是汉语迷"中文游戏大赛。师生们共同学习、共同游戏,一起度过了难忘的欢乐时光。
汉语教师志愿者邹亚平将此次中文游戏大赛设计成两大板块,第一大板块是"动脑游戏",第二大板块是"动手游戏"。在比赛正式开始之前,学生们通过击鼓传花的方式选出组长并决定了分组,紧接着,比赛正式开始了。"动脑游戏"共分为"汉语快乐传递"、"汉字对对碰"、"中华文化知多少"及"你比划我猜"四个环节,通过传递汉语词句、拼写汉字、竞答中华文化知识题、表演猜词等有趣的方式,让学生们在轻松欢乐的氛围中复习学过的汉语知识、学习新的汉语知识。第二大板块"动手游戏"则是通过一系列经典的趣味游戏让学生们体验中国人"儿时的记忆"——"夹豆子"、"颠乒乓球"、"踢毽子"、"叠报纸",各小组组员们通力合作,玩的不亦乐乎。最后,获胜的队伍获得了漂亮的中国剪纸作为奖品。恰逢圣诞节将至,在课堂的最后,老师为每位学生送上了拥有"平安"和"吉利"美好寓意的苹果和橘子,并献上了圣诞祝福,学生们非常开心,并表示十分期待未来的汉语课程。
此次中文游戏大赛反响十分好,学生们纷纷表示很喜欢这样的课堂活动。通过此次活动,学生们不仅收获了新的汉语知识,也体验了有趣的中文游戏,更加感受到汉语的独特魅力。
From December 18th to 19th, local time, the Adult elementary group of LUCI launched a fun "We All Love Chinese " Chinese game competition. Teachers and students learned and played together, and spent an unforgettable happy time together.
Volunteer Chinese teacher Zou Yaping designed the Chinese game competition into two major sections. The first major section is "brain games" and the second major section is "hands-on games". Before the competition started, the students chose the team leader and decided the group by "drumming and passing flowers". Then, the competition officially started. The "brain game" is divided into four links: "Pass the sound", "Chinese character matching", "Chinese culture Q&A" and "You perform I guess", pass Chinese words, matching Chinese characters, and compete for Chinese Cultural knowledge questions, performance of guessing words and other interesting ways allow students to review the learned Chinese knowledge and learn new Chinese knowledge in a relaxed and joyful atmosphere. The second major section of "hands-on games" is through a series of classic fun games to allow students to experience the "childhood memories" of Chinese people-"Pick up green beans with chopsticks", "Play Ping pong", "Shuttlecock kicking"…"The team members worked together and had fun. In the end, the winning team received beautiful Chinese paper cuts as prizes. Coinciding with Christmas, at the end of the class, the teacher gave each student an apple and tangerine with the beautiful meaning of "peace" and "lucky", and presented Christmas greetings. The students were very happy and expressed great expectations for future Chinese courses.
The Chinese game competition responded very well, and students expressed that they like such kind of class activities. Through this activity, students not only gained new knowledge of Chinese, but also experienced fun Chinese games and felt the unique charm of Chinese.