A Christmas Party Held by Confucius Classroom at Daugavpils University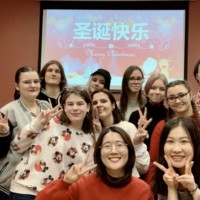 当地时间12月17日晚上17点30分,道加瓦皮尔斯大学孔子课堂举办了圣诞派对活动,两名汉语教师和道加瓦皮尔斯大学一年级、兴趣班的学生参加了本次活动。
首先,老师教大家认读"圣诞快乐"四个汉字,送上节日祝福。简单自我介绍之后,学生开始玩"抢凳子"的游戏,彼此很快就熟悉了起来。接着是乒乓球接力,学生分组竞赛。到了茶歇时间,大家一起享用提前准备好的美食并依次和圣诞树合影。然后,学生分成两组,进行"你演我猜"的游戏。两组学生分别上台抽题表演,生动的表演引起阵阵掌声,现场气氛达到了高潮。活动结束后,所有人一起合影留念。
此次圣诞派对活动将中国传统游戏与圣诞节日相结合,让学生提前感受圣诞节的氛围,同时加深了学生学习汉语的兴趣。
Local time at 17:30 on December 17th,the Confucius Classroom at Daugavpils University held a Christmas party.Two Chinese teachers and students from the first year and interesting groups at Daugavpils University participated in the event.
First of all, the teacher taught everyone to read out the four Chinese characters of "Merry Christmas" and sent holiday wishes.After a brief introduction,the students began to play the game of "grab the chairs" and soon became familiar with each other.Then it was the Ping-Pong Relay race,students had to compete in groups.At tea break, everyone enjoyed the food and took photos with the Christmas tree in turns.The students then were divided into two groups and played a game called "you play I guess" .The two groups of students went on stage to pick questions and perform. The lively performance caused applause and the atmosphere reached a climax.After the event, everyone took a group photo together.
This Christmas party event combines traditional Chinese games with Christmas Day,allowing students to experience the Christmas atmosphere in advance,while deepening their interest in learning Chinese.