Chinese calligraphy class for adults junior group at LUCI has been successfully held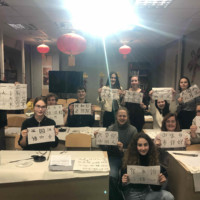 当地时间12月16-17日,拉脱维亚大学孔子学院本部成人初级班的学生们与汉语教师志愿者邹亚平在汉语课堂上一同体验了中国书法的魅力。
为了让同学们感受中国悠久的书法文化,老师采取了幻灯片展示、视频播放辅助的方式向学生们展示了汉字与书法的历史,并配合中国古典乐曲的播放,让学生们体会书法陶冶情操的妙趣。
正式开始写字前,老师一一纠正了学生们的握笔姿势和坐姿,强调了书写姿势的重要性。接着,老师结合实物向学生们介绍了书法中的"文房四宝",并演示了 "横、竖、撇、点、捺"等汉字基本笔画的写法,随后,老师解释了中国俗语"横平竖直"及"字如其人"的意思,帮助学生们理解人的性格品质与所书写的字之间的内在联系。在学生们做了充分的笔画练习之后,教师将本学期学过的汉字与书法结合起来,让学生们在体验书法的过程中同时复习了所学的汉字,学生们纷纷表示这样的方式非常高效且有趣。
最后,每位学生都挑选了自己喜欢的汉字,完成了一副书法作品。本次书法体验活动不仅让学生们掌握了中国书法的基本写法,同时也复习了学过的汉字,进一步减轻了学习汉字的畏难情绪,更使大家感受到历史长河中积淀千年的中国文化魅力。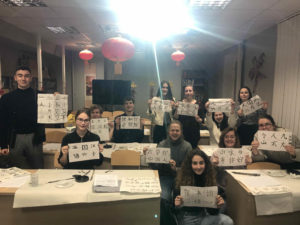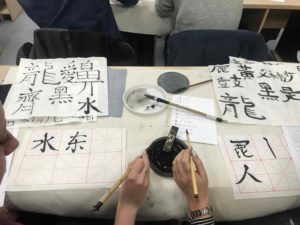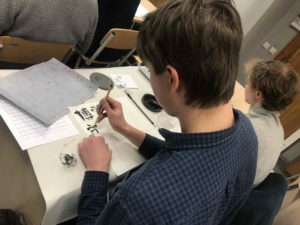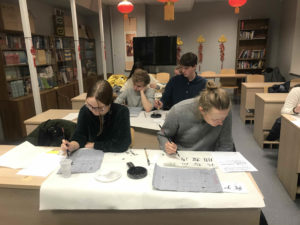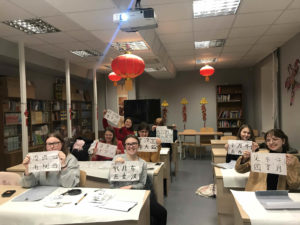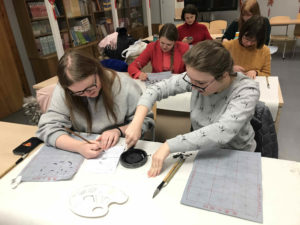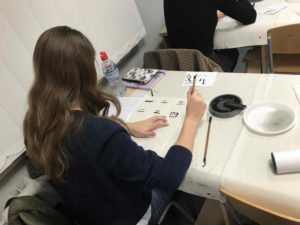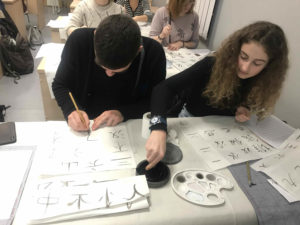 From December 16-17, local time, the students of the adult junior class of the Confucius Institute at the University of Latvia and the Chinese teacher volunteer Zou Yaping experienced the charm of Chinese calligraphy.
In order for the students to experience the long-standing Chinese calligraphy culture, the teacher used a slide show and video to show the history of Chinese characters and calligraphy to the students, and cooperated with the playback of Chinese classical music, so that the students can better appreciate the charm of calligraphy.
Before officially starting to write, the teacher corrected the pen-holding posture and sitting posture of the students one by one, emphasizing the importance of writing postures. Then, the teacher introduced the "four treasures of the study room" in calligraphy to the students, and demonstrated the writing of basic strokes of Chinese characters such as "horizontal, vertical, left-falling, dot, and right-fallling". Then, the teacher explained the Chinese saying "horizontal and vertical". And the meaning of " Handwriting often reveals one's personality" ,to help students understand the inherent relationship between the character of a person and the characters written. After the students did strokes practice, the teacher combined the Chinese characters learned in the semester with calligraphy, allowing the students to review the learned Chinese characters at the same time in the process of calligraphy. Students said that this method was very efficient.
In the end, each student picked their favorite Chinese characters and completed a calligraphy work. This calligraphy experience not only allowed students to master the basic writing of Chinese calligraphy, but also reviewed the learned Chinese characters, further reducing the fear of learning Chinese characters, and making everyone feel the charm of Chinese culture accumulated in the long river of history.