A Chinese Language Event was Held in Confucius Classroom at Daugavpils University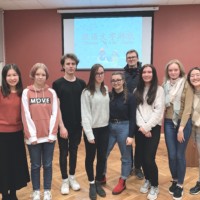 当地时间11月20日晚上17点30分,道加瓦皮尔斯大学孔子课堂举办了中文游戏活动,两名汉语教师和道加瓦皮尔斯大学一年级、兴趣班的学生参加了本次活动,活动由汉语教师主持。
首先,让大家逐一做自我介绍。接着是破冰游戏,中国传统游戏"一块两毛五"和"击鼓传花",让彼此很快熟悉起来。到了茶歇时间,大家一起享用提前准备好的美食。然后,学生分成两组,中文游戏活动正式开始。第一个游戏是传声筒,汉语教师向学生展示词语的拼音,让学生一个一个往后传,既准确又快速地说出答案的那一组获胜。第二个游戏是给拼音找朋友,学生用PPT上展示的拼音组新词,答对者加一分。用汉字部件组汉字是本次活动的第三个游戏,学生想出了"明、好、沐、妈"等汉字。到了第四个视频配音环节,学生用"石头剪刀布"决定选择配音视频的优先权,汉语教师播放提前拍摄好的视频并向学生展示台词。五分钟以后,两组学生分别上台进行配音表演,现场气氛达到了高潮。活动结束后,两名汉语教师给得分更高的那一组送上了奖品,所有人一起拍照留念。
此次中文游戏活动将汉语教学与文化活动相结合,让学生在游戏解密的过程中不仅复习了汉语的语言知识,还加深了学生学习汉语的兴趣。
At 17:30 pm local time on November 20th, a Chinese language game was held in the Confucius Classroom at Daugavpils University.Two Chinese teachers and students from the first grade and interesting groups of Daugavpils University participated in the event. The event was hosted by a Chinese teacher.
First of all,everyone did the self-introduction one by one.Then there was the ice-breaking game,the traditional Chinese game "One point Two Five" and "Flower Delivery", which made each other familiar quickly.At the coffee break time,everyone could enjoy the food which was prepared in advance.Then,the students were divided into two groups,the Chinese game activity officially began.The first game was a "megaphone".The Chinese teacher showed the students the syllables of the words,and let the students pass back one by one,and the group that accurately and quickly said the answer won.The second game was to find friends in syllables.Students used the syllables to form new words displayed on the screen,and the group would get one point if they formed the correct word.The creating a new Chinese character was the third game of the event,the students came up with Chinese characters such as "Ming, Hao, Mu, Ma".The fourth session was video dubbing,the students played the "Rock scissor paper shoot" to decide the priority of selecting the order of dubbing video.The Chinese teacher played the video and showed the subtitles to the students.Five minutes later,the two groups of students went on stage to do a dubbing performance,and the atmosphere at the scene reached a climax.After the event, two Chinese teachers gave prizes to the group with higher scores,and everyone took photos together.
The Chinese game activity combined Chinese teaching with cultural activities, allowing students not only to review Chinese language knowledge but also to deepen students' interest in learning Chinese.