Chinese Painting Cultural Activity Successfully Held in Liepaja University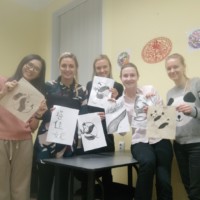 当地时间2019年11月6日晚上,利耶帕亚大学在325教室举办中国画文化主题活动。参加本次活动的有汉语初级班的学生们,该文化课由汉语教师志愿者伍淑仪讲授。
在中国画主题文化活动中,汉语教师伍淑仪首先为学生展示了文房四宝——笔墨纸砚。然后结合多媒体为大家逐一介绍笔墨纸砚的起源与用途,讲解了宣纸的种类以及生宣和熟宣的差异,并与学生交流中西方古代使用的书写工具的异同,学生们深感有趣。接下来,教师提问学生毛笔除了写字还可以做什么,学生各抒己见,答案五花八门,气氛非常活跃,由此引出了中国画的主题。本次活动主要介绍了中国画中的山水画,分为设色山水与水墨山水。教师向大家介绍了两种画各自的特点,并介绍了著名的画家与画作,并展开相应介绍。最后,教师带领学生体验磨墨的乐趣,而且教学生运用浓墨与淡墨来绘画熊猫与竹子。学生非常投入画作,并在活动的结尾提出学写自己的中文名字。
本次文化活动举办非常成功,不仅让学生亲自体验中国文化的博大精深,还使学生发现了新的兴趣爱好,希望拥有自己的文房四宝。这样的活动机会对学生而言非常难得,学生表示对中国文化活动非常喜爱,很期待下一次文化活动。
Local time in the evening of 6th of November in 2019, Chinese painting cultural activity was successfully held in room 325 of Liepaja University. The students of Chinese Class attended this activity. And the activity is led by the Chinese teacher volunteer Wu Shuyi.
In this cultural activity, the teacher first showed four treasure of study to students: brush pen, ink, paper and ink stone. Then introduced the origin and function of every treasure with the power point, explained the kind of Xuan paper and the difference between the raw Xuan paper and the processed, and compared the similarities and differences of the ancient writing tool in China and Latvia, which made students feel interesting. After that, the teacher asked what the brush pen can do except for writing. Everyone has his own idea, and all answers are various and amazing. The atmosphere was very active. So this question led to the theme, Chinese painting. This activity mainly introduced one kind of Chinese painting called Landscape painting. There are two kinds of Landscape painting: green-blue painting and ink-wash painting. The teacher introduced their features and showed some famous paintings and painters. At last, students tried to grind ink by themselves and learned to draw panda and bamboos with light ink and heavy ink. All put themselves into drawing, and required to lean to write their Chinese name with ink at the end of the activity.
This cultural activity was held successfully. It not only have chance for students to experience the charm of Chinese culture, but also made some students find a new hobby. They hoped to have their own four treasured of study. For the students, to join Chinese cultural activity is very important and meaningful. They expressed that they loved Chinese cultural activity and looked forward to the next activity.