Chinese Cultural Exchange Activity Held Successfully in Jekabpils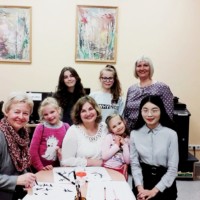 当地时间2019年10月24日下午5时40分,叶卡布皮尔斯市中国文化交流会在当地市图书馆212会议室举行。来自市图书馆、市议会、叶卡布皮尔斯中学等当地相关汉语爱好者参加了本次活动。
首先,叶卡布皮尔斯市Anta Klints女士向前来参加活动的汉语爱好者表示欢迎,并且介绍了与中国相关的书籍。随后,叶卡布皮尔斯中学Laima女士介绍了拉脱维亚大学孔子学院发展情况并且价绍目前学校汉语教学工作。
接着,叶卡布皮尔斯市政府议员Liga女士分享了今年7月随拉脱维亚教育访华团访问中国的见闻和感受,其中包括在广州深圳的考察、在华南师范大学的活动安排。此外Liga女士也阐述了对于中国城乡发展、科技发展以及中国青年人生活工作压力的个人感悟。拉脱维亚教育访华团的照片展示、中国城市的视频宣传片展示使得听众对于当下的中国有了更多更深的了解。
最后,叶卡布皮尔斯中学汉语教师志愿者吴哲哲从自我介绍开始使大家了解中国的教育体系;从地理环境、美食、名茶、方言、武术和豫剧六个方面介绍河南省的特色,并播放了《少林魂》《穆桂英挂帅》的表演视频,帮助大家多方面了解中国。此外,通过图画和汉字的匹配互动活动,有效地增强了汉字识记和学习的趣味性,帮助大家克服初次接触汉语的恐惧心理。适逢拉脱维亚最美的秋季,"秋"这个汉字的学习再次激发了大家对于汉语的兴致。
本次中国文化交流会在叶卡布皮尔斯市图书馆的顺利举办,这意味着有更多人愿意了解中国,愿意学习汉语。希望在拉脱维亚孔子学院的影响之下,越来越多的人喜欢汉语,爱上中国。
Local time at 17:30 on 24th October in Jekabpils, the Chinese Cultural Exchange Activity was held in the 212 conference room of the local city library. City librarians, city council members, teachers, students and other interested parties participated in the event.
First, Ms. Anta Klints, welcomed everyone's arrival and introduced books related to China. Then, Ms. Laima of Jekabpils State Gymnasium introduced the development of Confucius Institute at the University of Latvia and introduced the Chinese classes.
Then, Ms. Liga, the member of the Jekabpils municipal council, shared her experiences and feelings about visiting China with the Latvian Education Mission in July this year, including the trip to Shenzhen, Guangzhou, and the event arrangement at South China Normal University. In addition, Ms. Liga also elaborated on her personal insights into China's urban and rural development, technological development, and the pressures of life and work for young people in China. Photo presentations and videos about Chinese cities have given listeners a deeper understanding of China today.
Finally, Wu Zhezhe, the volunteer Chinese teacher at Jekabpils State Gymnasium, began to make people know more about China's education system from her own study and work experience, and then introduced the characteristics of Henan Province from the six aspects of geography, cuisine, famous tea, dialect, martial arts and Yu opera. In addition, through the matching interaction activities of pictures and Chinese characters, it effectively enhances the interest of Chinese character sage and learning, and helps the listeners overcome the fear of first exposure to Chinese. What's more, the study of the Chinese character "qiu" once again stimulated everyone's interest in Chinese.
Chinese Cultural Exchange Activity was held successfully in Jekabpils, which means that more people are willing to learn about China and Chinese. We hope that under the influence of Confucius Institute at University of Latvia, more and more people like Chinese and fall in love with China.