"The Fifth Baltic Open Wushu Championship" opened in Riga,Latvia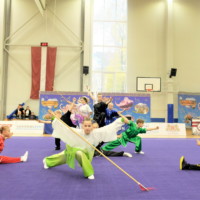 当地时间10月12日,"第五届波罗的海武术锦标赛公开赛"在拉脱维亚首都里加开幕,本届比赛由拉脱维亚武术协会承办,来自爱沙尼亚、俄罗斯、吉尔吉斯斯坦、拉脱维亚、立陶宛、意大利六国的众多武术运动员共176人参加了比赛。拉脱维亚武术协会会长罗曼和维多利亚、中国驻拉脱维亚共和国大使馆参赞沈晓凯、拉脱维亚中国文化中心主任张丽丽、拉脱维亚大学孔子学院中方院长尚劝余、武术志愿者黎锦豪和汉语教师志愿者以及社会各界人士出席并参加此次开幕式。
欧洲武术联合会副主席、波罗的海武术联合会主席Gleb Muzruko肯定了武术交流对世界人文交流与合作所做的积极贡献,鼓励参赛选手本着"以武会友"的精神,赛出水平、赛出友谊,并对比赛的圆满举行表示由衷的祝愿。
开幕式上,首先是各国代表队入场,主持人介绍参赛队伍和裁判;接着各个武术代表队为大家呈现了精彩绝伦的武术表演。来自里加武术功夫学校的舞狮表演飞腾跳跃、虎虎生威,彰显了中国的"龙狮精神";太极表演飘逸潇洒、阳刚威仪;刀枪表演利落干脆、扣人心弦,一招一式彰显武术的魅力。最后由嘉宾为参赛者颁奖,比赛继续进行。
本次活动促进了武术运动在拉脱维亚的发展,提高了学员的武术水平,为各个武术俱乐部提供了一个交流经验的机会,为中国武术走出国门,发扬光大提供了平台,使世界人民对中国武术有了更深的认识。
On October 12, local time, "The Fifth Baltic Open Wushu Championship" opened in Riga, Latvia. The championship was organized by Latvian Sports Wushu Federation with a total of 176 martial arts athletes from Estonia, Italy, Kyrgyzstan, Latvia, Lithuania and Russia taking part in the competition.
Roman Vasenko and Viktorijia Vasenko, heads of Latvian Sports Wushu Federation; Shen Xiaokai, Counsellor of the Chinese Embassy in the Republic of Latvia; Zhang Lili, Director of the Latvian Chinese Cultural Center; Shang Quanyu, Chinese director of Confucius Institute at University of Latvia; Chinese Wushu volunteer Li Jinhao and other Chinese teacher volunteers and people from all walks of life attended the opening ceremony.
The Vice President of the European Wushu Kungfu Federation and The President of the Baltic Wushu Federation Gleb Muzruko affirmed the positive contribution of martial arts exchanges to people-to-people exchanges and cooperation in the world. Contestants are encouraged to compete in the spirit of "friends with martial arts", to show their skills and friendship, and to express their sincere wishes for the successful holding of the competition.
At the opening ceremony, at first the host introduces the participating teams and referees from the six countries; then each martial arts team presents a brilliant martial arts performance for the audiences.
The lion dance performance from Riga Wushu Kungfu Sports School shows the "dragon and lion spirit" of China; Taiji performance is elegant and masculine;Sword and spear performance is gripping and each move demonstrates the charm of martial arts. Finally, the guests present awards to the contestants, and the competition continues.
This activity is beneficial to promote the development of martial arts in Latvia, to improve the martial arts skills of the students, to provide an opportunity for various martial arts clubs to exchange experiences, and to provide a platform for Chinese martial arts to go abroad and carry forward so that people from different parts of the world have a deeper understanding of Chinese martial arts.