Confucius Institute at University of Latvia successfully held a Chinese language training seminar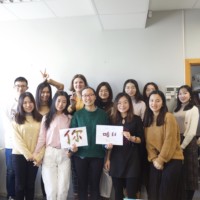 当地时间2019年10月5日上午十点,为了加强汉语教师之间的交流学习,提高教师教学水平和课堂效率,拉脱维亚大学孔子学院开展了一次汉语教学研讨活动。本次活动由孔院少儿初级班马笑笑老师主讲,孔院全体汉语教师及志愿者参与了本次活动。
首先马笑笑老师介绍了本次活动的主题,按照"发现问题-寻找原因-解决问题"的思路进行教学研讨。接着,每位教师简述了各自教学点的学生及课堂情况,将提出的教学及学生问题,进行收集统计分析,并一一探讨,寻找解决方法。最后,马笑笑老师结合课堂活动,让各位老师切身体验到丰富多彩的语言教学,鼓励教师探索多样有趣的教学方法,提高学生学习积极性。
通过本次教研活动,加强了教师之间的交流合作,形成了相互学习、相互帮助的良好学习氛围,既促进了中国教师对拉脱维亚本土汉语教学的了解,也为未来优化汉语教学模式、提高课堂效率奠定了基础。
At 10:00 am local time on October 5, 2019, to strengthen the exchanges between Chinese teachers and improve the teaching level and classroom efficiency of teachers, the Confucius Institute at University of Latvia conducted a Chinese teaching seminar. The event was lectured by the Confucius Institute's primary school class teacher Ma Xiaoxiao. All Chinese teachers and volunteers from the Confucius Institute participated in the event.
First of all, Ma Xiaoxiao introduced the theme of the event and conducted teaching discussions following the idea of ​​"discovering problems – finding reasons – solving problems". Then, each teacher gave a brief description of the students and the classroom situation of their respective teaching points, collected the statistical analysis of the proposed teaching and student problems, and discussed them one by one to find a solution. Finally, Ma Xiaoxiao combined with classroom activities, let the teachers experience the rich and colorful language teaching, encourage teachers to explore a variety of interesting teaching methods, and improve students' enthusiasm for learning.
Through this teaching and research activity, the exchanges and cooperation between teachers have been strengthened, and a good learning atmosphere of mutual learning and mutual help has been formed. It has not only promoted Chinese teachers' understanding of Latvian native Chinese teaching but also optimized Chinese teaching mode for the future.