Opening Ceremony of "Autumn, Spring And Autumn" Traditional Chinese Style Painting Exhibition was successfully Held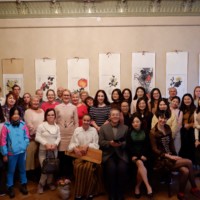 当地时间10月5日下午3时,"秋-春-秋"中国写意画展开幕式在拉脱维亚国家历史博物馆顺利举行,此次画展由"飞笔"中国画室和拉脱维亚大学孔子学院联手举办,展出时间为2019年10月5日-11月3日。
首先来自中国文化中心的王丹女士为到场嘉宾带来了中国乐器古筝独奏,悠悠琴声拉开了开幕式的序幕。"飞笔"画室负责人白凯夏女士向到场的各位嘉宾表示热烈欢迎与感谢,并与大家分享了她的创作过程与感悟。接着,拉脱维亚大学孔子学院中方院长尚劝余教授发表致辞,尚教授对画展顺利举办表达了热烈的祝贺,肯定了此次文化交流活动的重大意义。随后,音乐家们为大家带来了中华乐器与拉脱维亚民族乐器的表演。表演结束后,馆长带领到场嘉宾欣赏中国写意画并参观博物馆。
此次展出的作品为白凯夏(叶卡捷琳娜-贝拉耶娃)女士的十二幅中国写意画作和四幅扇面画作。白凯夏是拉脱维亚画家、艺术家和美术老师,是"飞笔"中国画室负责人。她目前在孔子学院设下教学点拉脱维亚文化学院学习汉语。这些作品是拉脱维亚画家白凯夏眼中所看到的中国春秋美景并配以中国古诗和书法,其中有些画作是在安徽画家刘逢文老师的在线指导下完成的。
据悉,拉脱维亚国家历史博物馆Dauderi分馆是十九世纪一位德裔啤酒厂主的家庭住宅,1937-1940年为总统和总理Ulmanis的夏宫,2010年后成为拉脱维亚国家历史博物馆的一个分馆,古色古香的建筑为中国写意画展增添了一抹文化交融的色彩。
本次活动取得了圆满成功,它是文化传播的重要契机,是文明交流的良好平台,祝福展出一切顺利,中拉两国的关系更加紧密友好。
At 3 p.m. local time on October 5th, "Autumn, Spring and Autumn" traditional Chinese style painting exhibition was held successfully at Latvian National Museum of History. The exhibition was held jointly by "Flying Brush" Studio and Confucius Institute. The exhibition time is from October 5th to November 3rd.
First of all, Ms.Wang Dan from the Chinese culture center brought the Chinese musical instrument Guzheng solo to the guests. Ms. Bai Kaixia, the principle of the "Flying Brush" Studio, warmly welcomed and thanked all the guests present. She shared her creative process and insights. Then, Professor Shang Quanyu, the Chinese director of the Confucius Institute at the University of Latvia, delivered a speech. Professor Shang affirmed the great significance of this cultural exchange. Later, two musicians brought the performance of Chinese musical instrument also the Latvia national instrument to everyone. After the performance, the curator led the guests to enjoy the Chinese freehand brushwork and visit the museum.
The exhibition shows Jekaterina Belajeva's 12 paintings and 4 fans in traditional Chinese painting style. Jekaterina Belajeva, a Latvian painter, artist and teacher of arts, is the principle of the studio of Chinese painting "Flying brush". She is studying Chinese language in Confucius Institute's teaching site — Latvia Academy of Culture.These paintings are Jekaterina Belajeva's personal impressions from the Autumn and Spring perception in China with her Latvian eyes. Some of the paintings were made with the Chinese teacher from Anhui Province called Liu Feng Wen's guidance online.
The Dauderi branch of the National Museum of history in Latvia was a family owned by a German brewery owner in nineteenth Century. It was the palace of president and Prime Minister Ulmanis for 1937-1940 years, and became a branch of the National Museum of history in Latvia after 2010.
This event is an important opportunity for cultural communication and a good platform for cultural exchanges. We hope that the relationship between China and Latvia will be closer.