Confucius Classroom at Daugavpils University Organized a Celebration of the 70th Anniversary of the Founding of China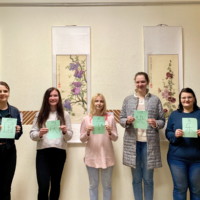 当地时间10月1日上午10点,道加瓦皮尔斯大学孔子课堂举办了庆祝中国成立70周年的活动,两名汉语教师志愿者和道加瓦皮尔斯大学一年级、二年级、三年级的学生参加了本次活动。
首先,汉语教师志愿者刘晶铭播放了庆祝中国成立70周年国庆阅兵仪式的视频,让学生加深对中国印象的同时对中国的发展有更直观的感受。其次,汉语教师志愿者王璐教学生说"中国生日快乐",让学生书写"国庆节快乐"的汉字,并录制视频记录下来;接着,两位汉语教师志愿者带领学生们参观了国庆70周年《远和近中国书画展》,简单向学生介绍了中国画和中国书法的相关知识,在参观过程中还复习了所学过的汉字,学生都表示对中国文化很感兴趣。
此次庆祝中国成立70周年的活动将汉语教学与文化活动相结合,学生不仅学习到了新的语言知识,还加深了学生对中国的了解和印象。
At 10:00 am local time on October 1st, the Confucius Classroom at Daugavpils University held an event to celebrate the 70th anniversary of the founding of China. Two Chinese teachers and students from the first, second and third grades of Daugavpils University participated in this event.
First of all, Chinese teacher Liu Jingming played a video of military parade in China to celebrate the 70th anniversary of the founding of China, making students deepen their impression of China and have a more intuitive experience of China's development. Secondly, the Chinese teacher Wang Lu taught the students to say "China, Happy Birthday". She let the students write the Chinese characters of "Happy National Day" and took the video. Then, two Chinese teachers led the students to visit  the Chinese Painting and Calligraphy Exhibition of 70th anniversary of the National Days, simply introduced Chinese painting and Chinese calligraphy to students, and reviewed the Chinese characters students learned during the visit. The students expressed their interest in Chinese culture.
The celebration of the 70th anniversary of China's founding combines Chinese language teaching with cultural activities. Students not only learn new language knowledge, but also deepen their understanding and impression of China.