Chinese teachers at Daugavpils University lead students to visit "Far and near Chinese painting and calligraphy Exhibition"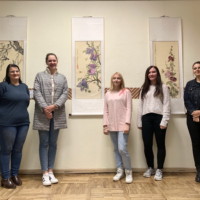 当地时间2019年10月1日下午一点,道加瓦皮尔斯大学孔子课堂的两位汉语教师志愿者带领学生们参观了国庆70周年《远和近中国书画展》。该展览是由拉脱维亚飞笔画室、拉脱维亚大学孔子学院以及道加瓦皮尔斯大学联合举办。展览中的画作作者是白凯夏女士,她是飞笔画室负责人,也是孔子学院下设拉脱维亚文化学院汉语教学点的学生,现如今在道加瓦皮尔斯大学攻读硕士学位。
学生们一边参观书画,一边询问两位老师关于中国书画的问题,包括中国书法和中国画之间的关系、艺术排版以及印章的作用等等。参观结束后,学生们纷纷表示中国书法非常有意思,他们认为,书法作品中的每个汉字都是一幅画,这让他们对中国汉字和书法产生了浓厚的兴趣,并且希望有机会可以进行尝试和学习。在参观的过程中,大家一起欣赏作品、交流感受,这既加深了学生对中国艺术作品的认识,也拉近了彼此的距离,增进了老师和学生之间的感情。
At 1: 00 p.m. local time on October 1, two Chinese teacher volunteers from the Confucius Classroom at Daugavpils University showed the students around the "Far and near Chinese painting and calligraphy Exhibition", the 70th anniversary of the National Day.
The exhibition was co-organized by the Latvian Flying Brush Studio, the Confucius Institute at University of Latvia and the Daugavpils University. The author of the exhibition is Ms. Bai Kaisha, director of the Flying Brush Studio and a student at the Latvian Academy of Culture, who is now studying for a master's degree at Daugavpils University.
While visiting calligraphy and painting, the students asked the two teachers questions about Chinese calligraphy and painting, including the relationship between Chinese calligraphy and Chinese painting, artistic typesetting and the role of seals. After the visit, the students said that Chinese calligraphy was very interesting. They think that every Chinese character in the calligraphy work was a painting, which make them have a strong interest in Chinese characters and calligraphy. And they hope to have the opportunity to try and learn. In the course of the visit, we enjoyed the works and exchanged feelings together, which not only deepened the students' understanding of Chinese works of art, but also narrowed the distance between each other, and enhanced the feelings between teachers and students.