Riga Daugavgriva Secondary School celebrates China's 70th birthday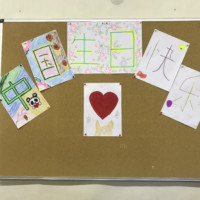 2019年10月1日,是我们伟大的祖国70周岁的生日。里加道加瓦河口中学汉语课的学生们,在汉语教师胡靖与本地教师莲娜的组织下,为中国70周岁的生日献上了特别的祝福。
在当天的汉语课上,学生们进行了一场别开生面的文化活动。在三年级与十年级学生的汉语课上,老师首先将学生们分成三组,每组各负责写下"中国"、"生日"、"快乐"两个汉字。各个小组的同学们发挥创造力,在纸上画出或者写下他们对中国的祝福。作品完成后,学生们手持作品,与老师一起拍照留念。
金秋十月,让我们祝伟大的祖国70岁生日快乐!祝中国与拉脱维亚友谊长存!
October 1, 2019, is the 70th birthday of our great motherland—China. Students in Chinese class at Riga Daugavgriva Secondary School, organized by Ms. Hu Jing and Ms. Jeļena Židkova, offered special wishes for China's 70th birthday.
In today's Chinese class, students enjoyed a unique cultural activity. In the Chinese class of the third and tenth grade, the teacher first divided the students into three groups, each of which was responsible for writing two Chinese characters: "中国", "生日" and "快乐". The students in each group were creative and drew or wrote down their blessings to China on paper. After the completion of the work, the students held the work in hand and took pictures with the teacher as a souvenir.
In this October, let us wish the great motherland a happy 70th birthday! May the friendship between China and Latvia last forever!