"Confucius's View of Gods" Lecture was successfully held by Faculty of Humanities of Latvia University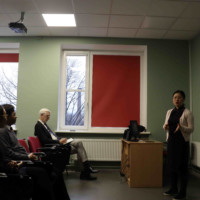 当地时间11月23日,塔林大学孔子学院中方院长朱璐博士到访拉脱维亚大学孔子学院,以"孔子如何看待神"为题展开讲座。参加本次讲座的人员还有拉脱维亚大学人文学院亚洲系中文专业教师鲍葛薇副教授、拉脱维亚大学人文学院Leons Taivans教授,华南师范大学国际文化学院王葆华教授,汉语教师王琼子以及汉语教师志愿者、中文专业学生等。
在讲座中,朱璐博士首先向大家介绍了孔子及其主要思想,随后又从"理性的游离"、"重祭祀之礼"、"天的理解"等三个方面为大家详细地展示了孔子对待神的态度。讲座最后,朱璐博士为大家针对讲座内容提出的问题作出解答。
最后,朱璐博士在汉语教师的带领下前往孔子饭店用餐,此次讲座圆满落下帷幕。
Local time on November 23th, Dr.Zhu Lu, Chinese-side Director of Confucius Institute at Tallinn University , visited the Confucius Institute at Latvia University  and gave a lecture on Confucius's View of Gods. Prof. Agita Baltgalve, Research Director of Asian Cultural Center at Latvia University, Pro.Leons Taivans from the Faculty of Humanities of Latvia University, Pro.Wang Baohua from South China Normal University, Chinese Teacher Wang Qiongzi, Volunteer Chinese Teachers and other nearly 30 people participated in this lecture.
In the lecture, Dr. Zhu Lu first introduced Confucius and his main ideas. Later, she showed Confucius's attitude towards God in detail from three aspects:"Attitude on thinking about the gods:in a rational distance", "Emphasize the Ceremony and Rituals of Doing Sacrifice" and "Confucius perspectives towards the heaven". At the end of the lecture, Dr. Zhu Lu answered the questions raised by the listeners.
Finally, Dr.Zhu Lu went to the Confucius restaurant with the Chinese teachers. The lecture came to a successful conclusion.