Riga Culture Secondary School Hold a series of cultural activities about Mid-Autumn Festival successfully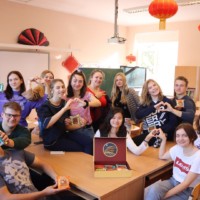 中秋节作为中国传统节日之一,是中华文化重要的组成部分。里加文化中学孔子课堂在汉语教学中不仅强调语言教学,同时也非常注重文化教学。为此在中秋节到来的九月,孔子课堂举办了一系列文化活动来让学生感受中秋节并与学生共同庆祝这个节日。
为了让学生对中秋节有全面深刻的了解,汉语教师给学生上了以"中秋节"为主题的文化课,主要介绍了中秋节的起源、日期、名字的由来、传统习俗以及中秋节的意义。通过图片、视频及老师的讲解,学生们了解了中秋节是一个怎样的节日。理论上的讲解之后,汉语教师们在课堂上和学生一起品尝了月饼,并同时向学生介绍不同种类、不同形状、不同口味的月饼,让学生亲身感受中国的传统食物和中国味道,在视觉和味觉上加深了学生们对中秋节的印象与了解。汉语教师还带领学生一起学习了一首与中秋节有关的中文歌曲《我们的月亮一定圆》,通过对歌词的逐句讲解,学生们理解了整首歌的含义而且学会了歌词手语,并在2018孔子学院日及中秋节庆典上表演,获得了圆满成功。
通过这一系列的文化活动,学生们对中国传统节日中秋节有了全面真实而又深刻的认识并且对中国传统文化更感兴趣了。他们表示很喜欢这样的活动,希望有关中国传统节日的文化活动能够多多举办。
Mid-Autumn Festival, as one of Chinese traditional festival, is an important part of Chinese culture. Confucius Classroom at Riga Culture Secondary School attaches importance to language teaching as well as culture teaching. So the school hold a series of cultural activities about Mid-Autumn Festival in September to make students know more about Mid-Autumn Festival.
In order to give a comprehensive impression of Mid-Autumn Festival to students, the Chinese teacher had a culture lesson about Mid-Autumn Festival. In this lesson, Chinese teacher mainly talking about the origin, the date, the origin of the name, the traditional custom and the meaning of Mid-Autumn Festival. Through the pictures, video and teacher's explainment, students learnt about what Mid-Autumn Festival is. After that, Chinese teacher brought mooncakes to the classroom to share with students. Students not only tasted the traditional food of China, but also had the firsthand experience of Chinese flavor. This activity has deepen students' impression and understanding of Mid-Autumn Festival. What's more, the students also learnt a Chinese song about Mid-Autumn Festival. By understanding the meaning of the lyrics, they learnt the gesture language about the song and performed in the 2018 Confucius Institute Day. And it won a lot of applause.
Through these cultural activities, students are more knowledged about Mid-Autumn Festival and get more interested in Chinese culture. They declared that they like activities like this and they hope that cultural activities will be hold more often.