Confucius Institute at the University of Latvia Hosts the First HSK &HSKK Exams in 2018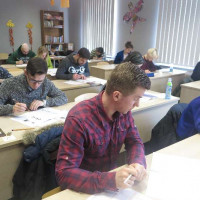 当地时间2018年3月24日上午,拉脱维亚大学孔子学院举办了2018年首场HSK及HSKK考试,这是拉大孔院在成立汉语水平考试考点以来第七次举行汉语水平考试。
本次考试设有汉语水平考试一级到五级共五个级别,汉语水平口语考试初级级别,来自拉脱维亚各地的45名汉语爱好者参加了本次考试,人数创历史新高。其中有五名参加了HSK三级的考生同时参加了HSKK初级的考试。据了解,本次考试的考生来自拉脱维亚的多个城市,他们都一大早坐火车或是大巴车早早到达了考试现场。为保证此次考试的顺利进行,拉脱维亚孔子学院的汉语教师们从考试前期宣传,组织报名,考前培训以及考场布置到考场设备检查等,每个环节都力求做到准确无误。
今后拉脱维亚大学孔子学院将继续扩大考试宣传力度,让更多拉脱维亚的汉语爱好者们参与其中。在此祝愿每一位考生都能取得好成绩。
Local time, on the morning of March 24th, 2018. The Confucius Institute at the University of Latvia hosted the first HSK and HSKK examinations in 2018. This is the seventh time that the Confucius Institute has held HSK Exam since the establishment of the HSK test center.
There are five levels from Level 1 to Level 5 in the HSK, and the primary level of the HSKK. 45 Chinese fans from all over the country took part in the examination, and the number reached a record high. Among them, five candidates who participated in HSK Level 3 also took part in the HSKK Elementary Examination. It's reported that candidates for this exam came from different cities in Latvia. They all arrived early in the morning by train or bus. To ensure the smooth progress of the exam, Chinese teachers at the Confucius Institute in Latvia strive to achieve accuracy in all aspects from the pre-test publicity, the organization of registration, the pre-examination training, the examination room layout to the examination room equipment inspection.
In the future, the Confucius Institute at the University of Latvia will continue to expand the examination publicity to let more Latvian Chinese fans participate in this exam. Heron, bless every candidate with good result.