Representatives from CIUL attended the 12th Confucius Institute Conference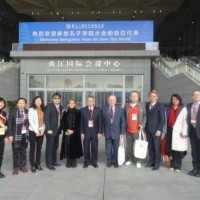 2017年12月12日至13日,拉大孔院理事长亚尼斯 伊克斯顿思教授、拉方院长贝德高教授、中方院长尚劝余教授一行出席了第十二届孔子学院大会。
本届大会由孔子学院总部和陕西省政府主办、陕西省教育厅和西安市政府承办,在古都西安隆重召开,来自世界146个国家的2500多名中外校长和孔子学院院长出席了大会。教育部长陈宝生主持开幕式,刘延东副总理做主旨演讲,陕西省长胡和平致辞。
大会设有"孔子学院发展与建构人类命运共同体"大会论坛,以及"院长论坛"和"校长论坛"。拉大孔院三位代表参加了孔子学院大会论坛活动,并与华南师范大学领导(吴坚副校长、戴黍处长、叶晓霓主管)以及加拿大高贵林孔子学院和法国留尼汪大学孔子学院代表进行了互动交流,就孔子学院相关问题进行了全面深入讨论,相互学习,共同进步。
On December 12 – 13, 2017, Chairman of CIUL Council Prof Janis Ikstens, Latvian Director Prof Peteris Pildegovics and Chinese Director Prof Shang Quanyu attended the 12th Confucius Institute Conference.
The conference was held in Xi'an, which is sponsored by Confucius Institute Headquarters and Shaanxi Provincial Government, and organized by Education Department of Shaanxi Province and Xi'an Minicipal Gorvernment. About 2500 representatives from 146 countries, including rectors of universities and directors of Confucius Institutes-Confucius Classrooms participated in the conference. Minister of Education Mr Chen Baosheng presided the opening ceremony, Vice Premier Madam Liu Yandong gave the keynote speech, Governor of Shaanxi Provincial Government Mr Hu Heping gave welcome remarks.
The conference includes Conference Forum "Development of Confucius Institutes and Building of a Community of Shared Future for Mankind", Directors' Forums and Presidents' Forum. Three representatives from Confucius Institute at University of Latvia, in addition to attending the forums, also made interaction with representatives from South China Normal University, Confucius Institute at University of Reunion and Confucius Institute in Coquitlam, which will be tremendously instrumental to the development of Confucius Institute at University of Latvia.