Latvian students attending the tenth Chinese Bridge Competition for teenagers in China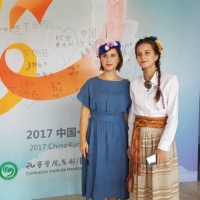 北京时间2017年10月13日,今年汉语桥中学生中文比赛拉脱维亚赛区的两名优胜者贝娜茜、狄安娜以及领队董芳老师一行来到了中国,参加在北京和昆明两地举行的为期16天的第十届"汉语桥"世界中学生中文比赛。本次汉语桥由孔子学院总部(国家汉办)和云南省人民政府主办,云南省教育厅、云南师范大学和云南省广播电视台承办。来自96个国家,110个赛区的320名师生齐聚北京,秉着"赛学结合、寓教于乐"的理念,共同开启了此次中华文化之旅。
14日至15日,参赛者与带队老师访问了位于北京的孔子学院总部,并体验了许多中国文化。次日,参赛者与带队老师飞往昆明。17日,赛事正式启动,第一场比赛是汉语及文化知识笔试。随后两日,分别举行了演讲与才艺两场比赛。来自拉脱维亚的选手狄安娜按照自己对《青花瓷》这首中文歌的理解,耗时两个多月制作了一个视频动画。才艺比赛现场,在《青花瓷》动画的背景下,来自拉脱维亚的另一位选手贝娜茜演唱了《青花瓷》这首歌曲,为现场评委与观众带来了别样的视听感受。虽然两位选手最终无缘前20强,但其匠心独具的才艺表演,给大家留下了深刻的印象。
"汉语桥"在中国与世界各国间搭起了一座座语言与文化的桥梁,这些桥梁让国外的汉语学习者有机会来到中国,展示所学,并切身体验中华文化。去年是中国与拉脱维亚建交二十五周年,如今在拉脱维亚,学习汉语的人数与日俱增,每年汉语桥的参赛者也越来越多,"汉语桥"在激发拉国人汉语学习热情,乃至培养高水平的汉语人才方面都发挥着极其重要的作用。
Beijing time 13th October, 2017, two winners of Chinese Bridge Competition for teenagers in Latvia division Bei Naxi, Di Anna and leading teacher Dong Fang came to China,and participated in the tenth "Chinese Bridge" Competition, which was held in Beijing and Kunming, and would last for 16 days. This Competition was sponsored by the headquarters of Confucius Institute (Hanban) and the people's Government of Yunnan Province, and was undertaken by the Yunnan Provincial Education Department, Yunnan Normal University and Yunnan radio and TV station. 320 teachers and students from 96 countries and 110 divisions gathered in Beijing, with the ideal of "Competing with learning,teaching with entertaining", started the journey of Chinese culture together.
On the 14th and 15th of October, contestants and leading teacher visited the headquarters of the Confucius Institute in Beijing and experienced a lot of Chinese culture. The next day, they flew to another city Kunming. On the 17th October, the event officially started. The first competition is written examination about Chinese language and knowledge. The following two days were speech and talent competition. Latvian contestant Diana spent two months making a video animation based on her own understanding of Chinese song "blue and white porcelain". During the talent competition, in the "blue and white" animation background,another Latvian contestant Bei Naxi sang the song "blue and white porcelain", and it really brought a different kind of audio-visual experience for both judges and audience. Although these two contestants eventually missed the top 20, but their unique talent show made a deep impression on everyone .
"Chinese Bridge" constructs bridge of language and culture between China and the world, those bridges provided Chinese learners opportunities of coming to China, showing what they have learned and experiencing Chinese culture in person. Last year is the 25th anniversary of Establishment of diplomatic relations between China and Latvia. Nowadays, the number of Chinese learners in Latvia is increasing rapidly every year, and the number of Chinese Bridge competitors is rising as well. "Chinese Bridge" plays an extremely important role in stimulating Latvian people's enthusiasm for learning Chinese, and even cultivating high-level Chinese talents for the society.