A Late Recognition Letter –to Confucius Institute At the University of Latvia's Chinese Teacher Dong Fang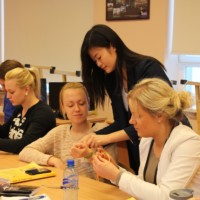 "This letter is not only a recognition and encouragement for me, but also a fully understanding and enthusiastic support for Confucius institute"—-In May 3rd, 2017, Dong Fang-a Chinese teacher of Confucius institute at the University of Latvia was received a recognition letter from Riga Cultural Secondary School, to express thanks and recognition for her four years efforts in teaching Chinese and cultural exchange works. The Principal of Riga Cultural Secondary School Dr. Solveiga Linda Remese expressed their appreciation for sparking students' inspiration of Chinese learning by Dong Fang.
The First Confucius Classroom in Latvia
On June 18th, 2013, Hanban/Confucius Institute Headquarters officially approved the establishment of Confucius Classroom at Riga Cultural Secondary School, which is affiliated with Confucius institute at the University of Latvia. It is the first Confucius Classroom not only in Latvia, but also in the three Baltic states. Riga Cultural Secondary School has always enjoyed a great reputation in Latvia. The teaching method of this school are in line with the advanced methods recognized by the world. It has also made a great progress in broadening students' views and training them into intercultural talents along with comprehensive capabilities. This school also provides a wide selection of language courses, Chinese is one of their elective credit course. That's the reason why this school is very strict with the quality of their courses including Chinese , and the students also maintain a distinctive personality as well as personal awareness.
The First Chinese Teacher of the First Confucius Classroom in Latvia
Although Dong Fang is young, she has been a Chinese teacher for more than ten years. She has a rich teaching experience and so good at giving systematic guidance that every student loves her. In October 2013, she became the first Chinese teacher in Confucius Classroom at Riga Cultural Secondary School. She is the most qualified Chinese teacher in Latvia so far. However, the overseas Chinese teaching career is not always going smoothly. Since Riga Cultural Secondary School was the first time to opened Chinese language courses, they attached great importance to Chinese class, and put a high the requirements for Chinese teacher. It's a great challenge to get the recognition from school as well as to manage the unruly kids.
The First Chinese Teacher's First Four Years
From October 2013 to 2017,Dong Fang holds her appointed position at Confucius Classroom at Riga Cultural Secondary School, which is affiliated with Confucius institute at the University of Latvia from 2013. Up to now, it has been four years. During this four years, she took 24 lessons of 6 classes each week. At the same time, she had to organize various cultural activities. During this four years, in addition to organizing Chinese teaching and cultural activities, she also served as an assistant of Chinese Director of LUCI , who will undertake various works, such as communicate with local Chinese groups and embassy, as well as organize meetings and manage volunteers. During this four years, she also participated in many other important activities, including organizing the Latvian educational delegation to visit South China Normal University and participating in the reception of Premier Li Keqiang and Chairman of Standing Committee of the National People's Congress Zhang Dejiang's visit to Latvia. During this four years, she provided guidance to students participate in "Chinese Bridge" Competition, many of whom showed excellent achievements. Two of her students received the first prize and second prize in the Advanced level, respectively, and went to China for final competition, representing Latvia. Until today, a total of 10 graduates have been awarded Confucius Institute scholarships to study for bachelor's degree in China. During this four years, she focused on teaching Chinese to speakers of other languages career. Cooperating with directors of LUCI, they edited and published the book named Research and Exploration of Chinese Teaching in Latvia. Organizing local and Chinese teachers to edit local textbooks. During this four years, She did not stay at home for more than 15 days each year. She had to take charge of the coordination, organization and be the leadership of the summer camp every June and July, which was supposed to be her vacation time……
This recognition letter gives this four years a happy ending. This young teacher, who aspires to teach Chinese overseas for the rest of her life, will raise her sails again and sail in the wind for the next, next four years.